Hayflower was created to help companies of all stages—public and private, early and mature—benefit from the successful communications strategies leveraged by strategic corporate communications and investor relations (IR). For more than seven years spent as an IR advisor, I worked closely with dozens of management teams to develop their strategic business and financial communications strategies and execute on our communications plans. During this time, I worked on 20 Internet IPOs, seven mergers or acquisitions, three shareholder activist campaigns and over 120 quarterly earnings calls. Our ultimate communications goal was to build credibility, enhance reputation, and increase market value. We did this by strengthening our narrative with proof points, such as key metrics, customer insights, product data, research and information—this is data-driven communications.
Including data and facts to legitimize and strengthen a story is not new—but what amazed me throughout my time spent in financial communications and another eight years as an analyst, was how few companies provided insightful data within their corporate narrative. Most companies' data-driven communications consisted of a few case studies and ROI metrics created for sales. Gaining support from the broader market, as well as signing larger clients and multi-year deals, required proof that they had the leading product, vision and were without a doubt THE best company in the market. I worked with many companies whose growth and profitability were sub-par relative to their peers, but their company drove a premium valuation. Why? We were able to articulate their vision and prove they were the leader or had the winning strategy because we had data to back it up. Companies with the most insightful data and justifiable market position performed the best—their success was not always the result of their financials.
Every company can apply these communications strategies to increase their value to customers, prospective customers and partners as well as investors. However, most companies lack a dedicated person to identify key metrics, market research, product or customer insights with an understanding of how to integrate that data throughout marketing and communications. Hayflower specializes in identifying and integrating data throughout the corporate narrative, including public relations, sales and marketing communications.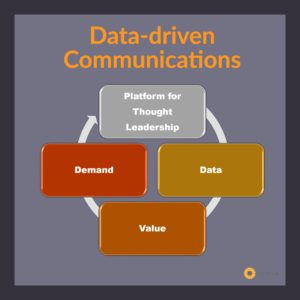 Tactically, data-driven communications drives efficiencies in marketing, with the flexibility to integrate and distribute singular findings, insights and data points throughout all communication formats and media channels. It is naturally optimized for search, sharing and distribution. Data-driven communications is part of a virtuous cycle where data drives value, value drives demand, and demand builds a platform from which our clients can create their thought leadership position.
Strategically, data-driven communications represents an educational approach to increasing revenue, building reputation and market leadership. Our clients are resources not marketing machines for their customers, partners and the broader marketplace.
At Hayflower, we understand the power that numbers and data have in building and legitimizing the corporate narrative, and we help our clients create their thought-leadership platform. Our passion is blending art with science to create powerful messaging and valuable information that resonates. In fact, the Hayflower name and logo is a symbol of our belief that data has the power to enlighten every business story.