The Market Monitor
Mixed Signals
Volatility remains high this year as investors digest mixed economic signals and assess the trajectory of interest rates over the balance of the year. Early in February, the market was shocked by what the Associated Press called "
a surprising burst of US hiring
," with 517,000 new jobs nearly three times the consensus estimate. The report ran contrary to anecdotal evidence of an accelerating pace of layoffs, particularly in the technology sector. With inflation still well above the Fed's 2% target, investors began to price in a more protracted cycle of rising rates. As a result, stock prices, especially for high-growth technology companies, took a hit.
In addition to the strong jobs report, retail sales
jumped 3% in January
, the largest one-month increase since March 2021, when a round of stimulus checks gave a big boost to spending. Excluding the pandemic era, January's rise was the largest in more than two decades. The unemployment rate fell to 3.4%, the lowest since 1969. Earnings reports from companies exposed to travel, including airlines, cruise lines, and lodging companies, provided further evidence that consumers are continuing to spend on travel and leisure activities. In response to the strong economic data, Goldman Sachs economists reduced their estimated probability of a recession this year
from 35% to 25%
.
On the other hand, consumer debt levels continue to rise, with consumer credit reaching an all-time high in Q4. Year-over-year credit card balances increased by
$130 billion
, the largest annual gain on record. Rising debt levels and delinquencies, especially at the lower end of the credit spectrum, suggest consumers are stretching to afford their lifestyles amidst high inflation. Savings rates are declining and many households are spending the savings they accumulated during the pandemic. On the corporate side, the vast majority of technology companies highlighted cautious behavior by their customers, including longer sales cycles, greater scrutiny on large deals, and a focus on prioritizing essential projects. Other than a few bright spots in areas like travel, the advertising market continues to weaken as managers adopt a conservative posture in the current environment.
Regardless of the economic situation, generative artificial intelligence (AI) remained the hottest topic in technology as investors and the general public continue to assess the potential implications of the technology. According to Reuters, mentions of AI-related terms increased by
up to 6x
on December quarter earnings calls, with Alphabet unsurprisingly up the most:
Alphabet (Google)

: 45 mentions, up from 13 in the previous quarter

Microsoft

: 39 mentions, up from 15 in the previous quarter

Meta (Facebook)

: 30 mentions, up from 22 in the previous quarter
It remains early days, but there is no question that the technology has the potential to dramatically alter our daily lives and disrupt established industries like search advertising. Even Henry Kissinger penned a Wall Street Journal Op/Ed piece where he referred to ChatGPT as an "
intellectual revolution
" which presents "a philosophical and practical challenge on a scale not experienced since the start of the Enlightenment."
While generative AI is obviously a hot topic with investors, not every company can incorporate the technology into their business model and investor messaging to the same extent. In this issue, we present a more general set of themes that are broadly applicable across industries and business models. In our "What's Working on Wall Street" column, we present our Top 5 themes along with examples from recent earnings reports, along with a set of Key Words that score points with investors in the current environment.
We hope you enjoy reading this month's Monitor and pass it along to others to subscribe. Happy reading!
What's Working on Wall Street
With the lion's share of companies with December and January fiscal year ends having now reported earnings, in this month's issue we present the Top 5 themes which we believe are working on Wall Street in the current environment, along with examples to illustrate each theme.
For the foreseeable future, we believe investors will continue to reward companies which demonstrate a commitment to improving profitability and cash flow while minimizing dilution and avoiding large-scale M&A.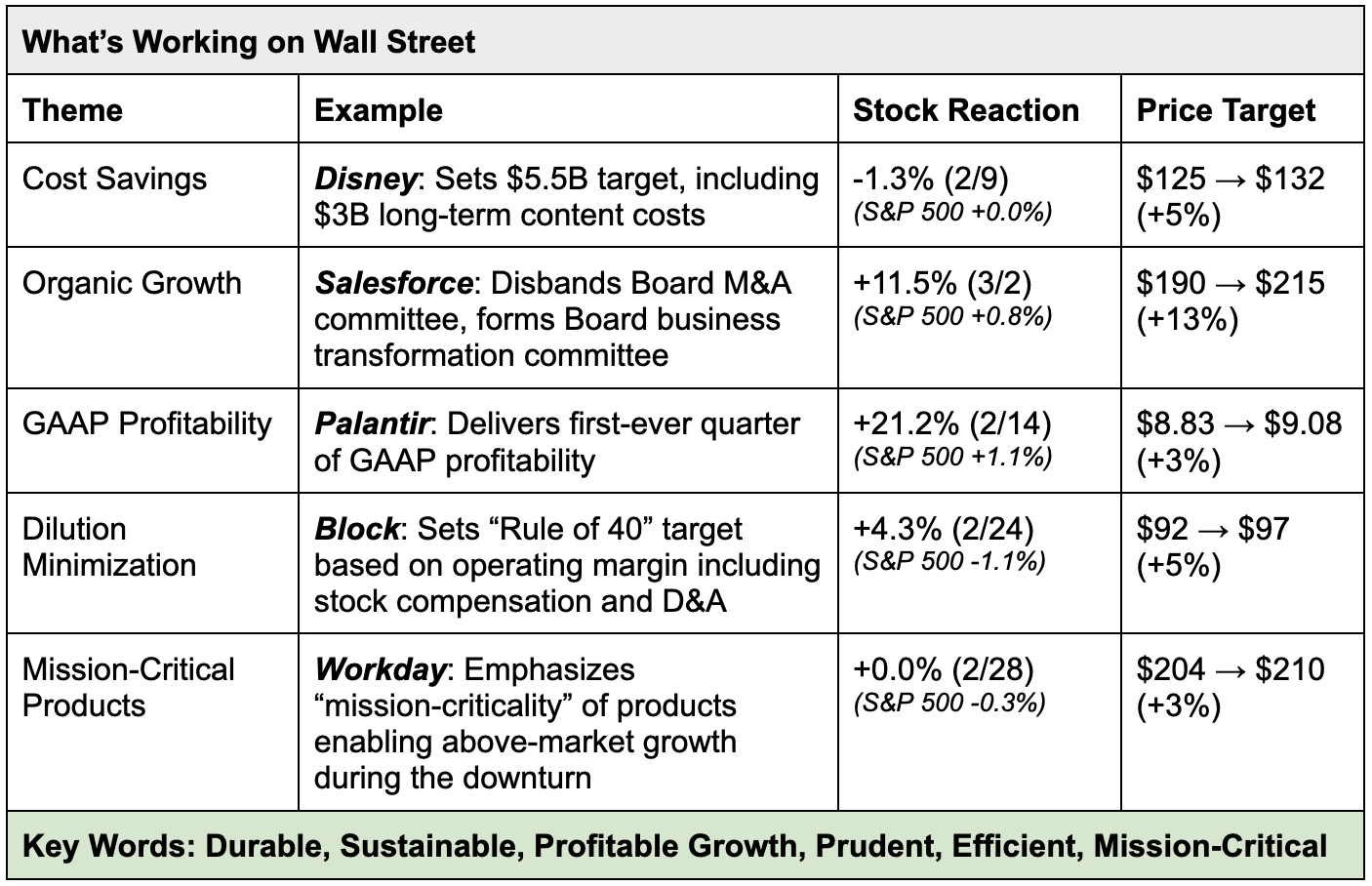 Lighter Notes
Image of the Month
Kansas City Chiefs quarterback Patrick Mahomes hoists the Lombardi trophy after
the Chiefs defeated the Eagles 38-35 to win Super Bowl LVII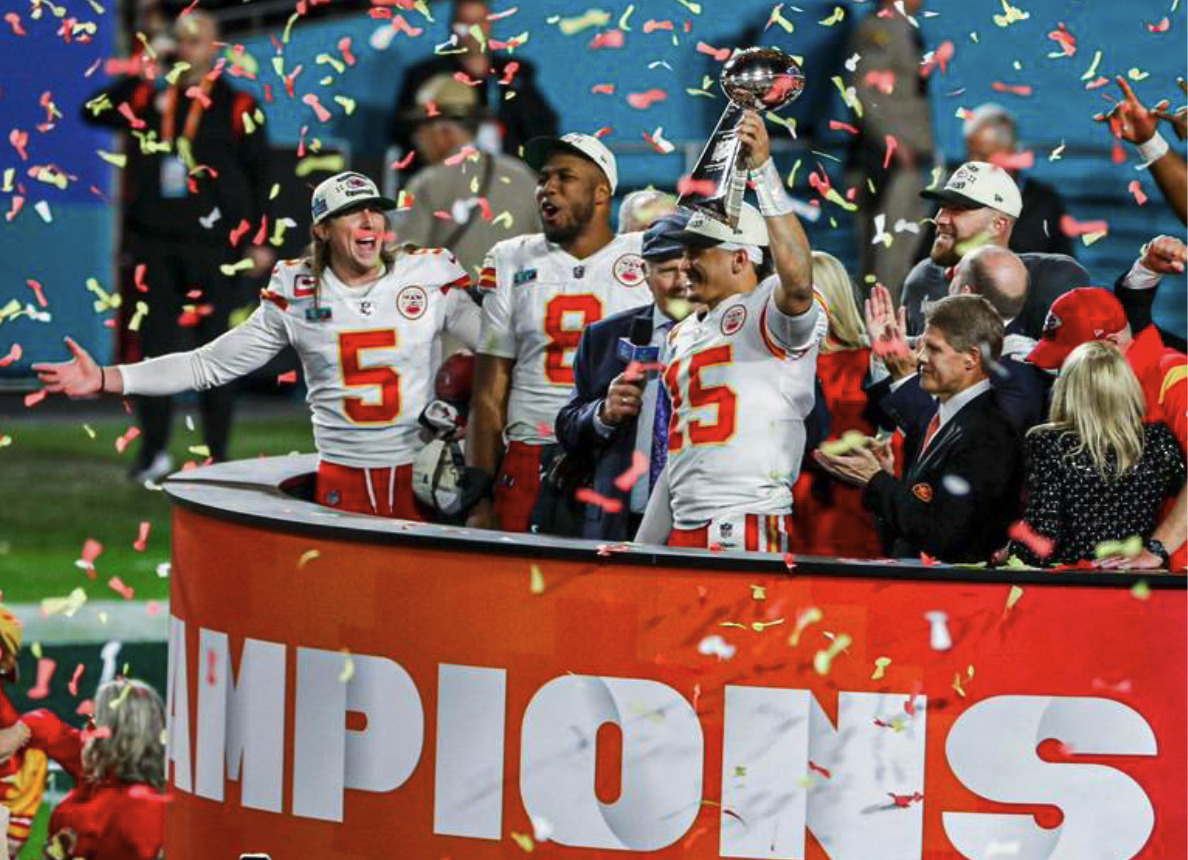 Image Credit: Nick Tre. Smith/Special to the Star
Chart Series
Taking a Break.
While layoffs in the technology sector have been stealing the headlines, pent-up demand for leisure activities has driven continued hiring across the leisure and hospitality sector, where payrolls are rising and rapidly approaching pre-pandemic levels.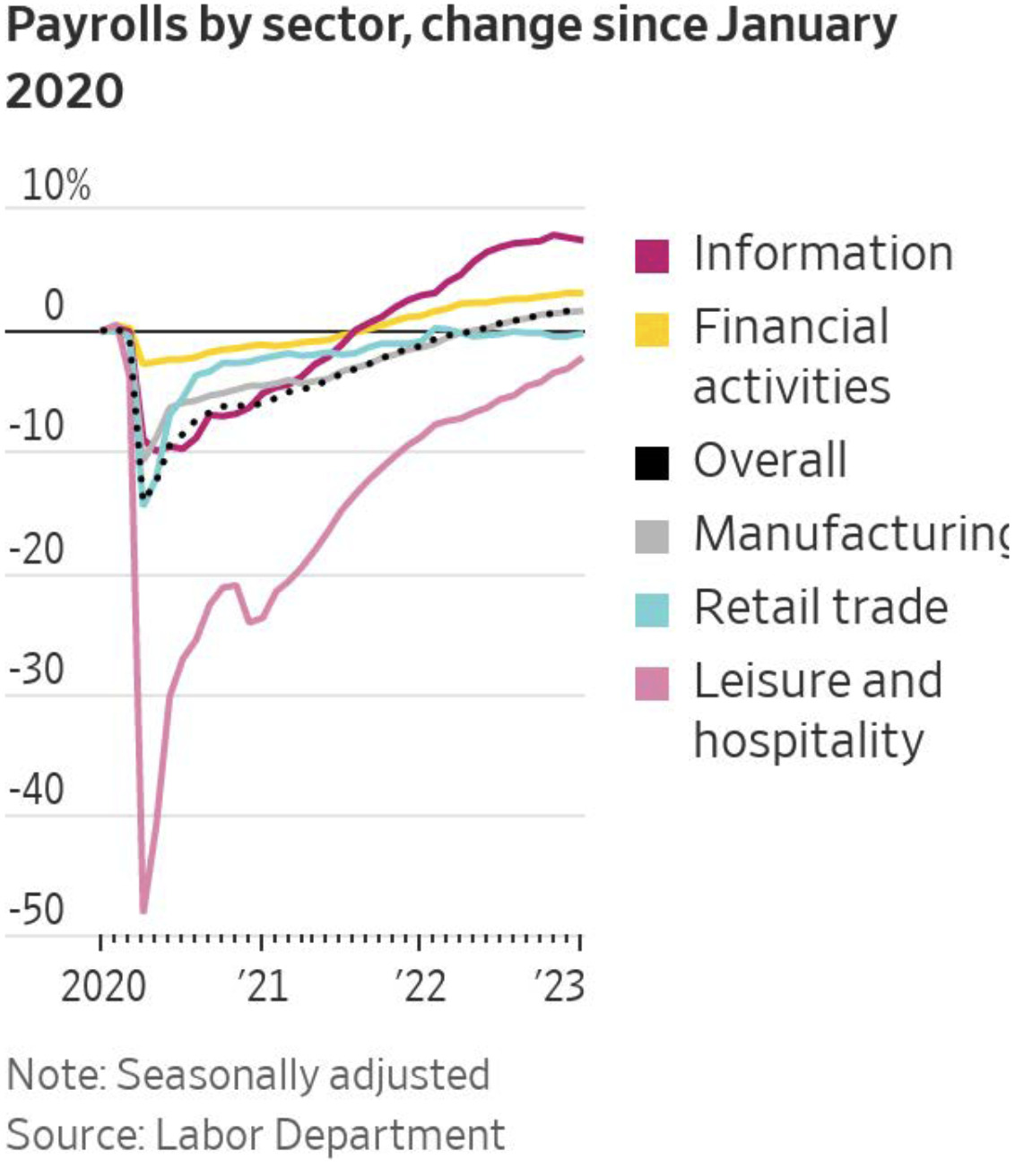 Turning off the Spigot.
After several record years, venture capital fundraising declined 65% year over year in Q4 to its lowest fourth quarter total since 2013 as high interest rates and lower stock prices sapped investors' risk appetite.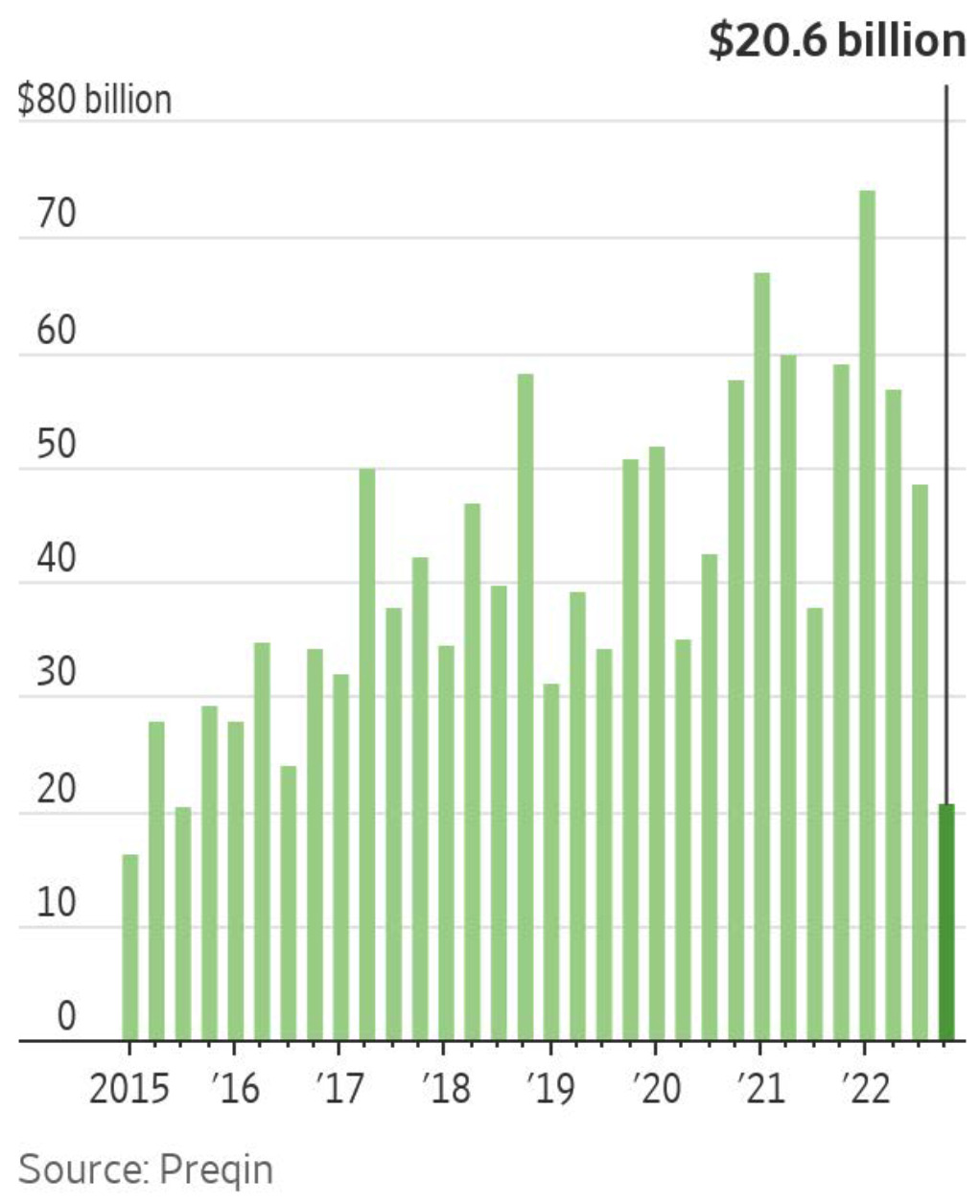 Under Pressure.
Since peaking in the second quarter of 2021, the average net profit margin of S&P 500 Index companies has fallen for 6 consecutive quarters through Q4, creating a headwind to earnings growth and stock price appreciation.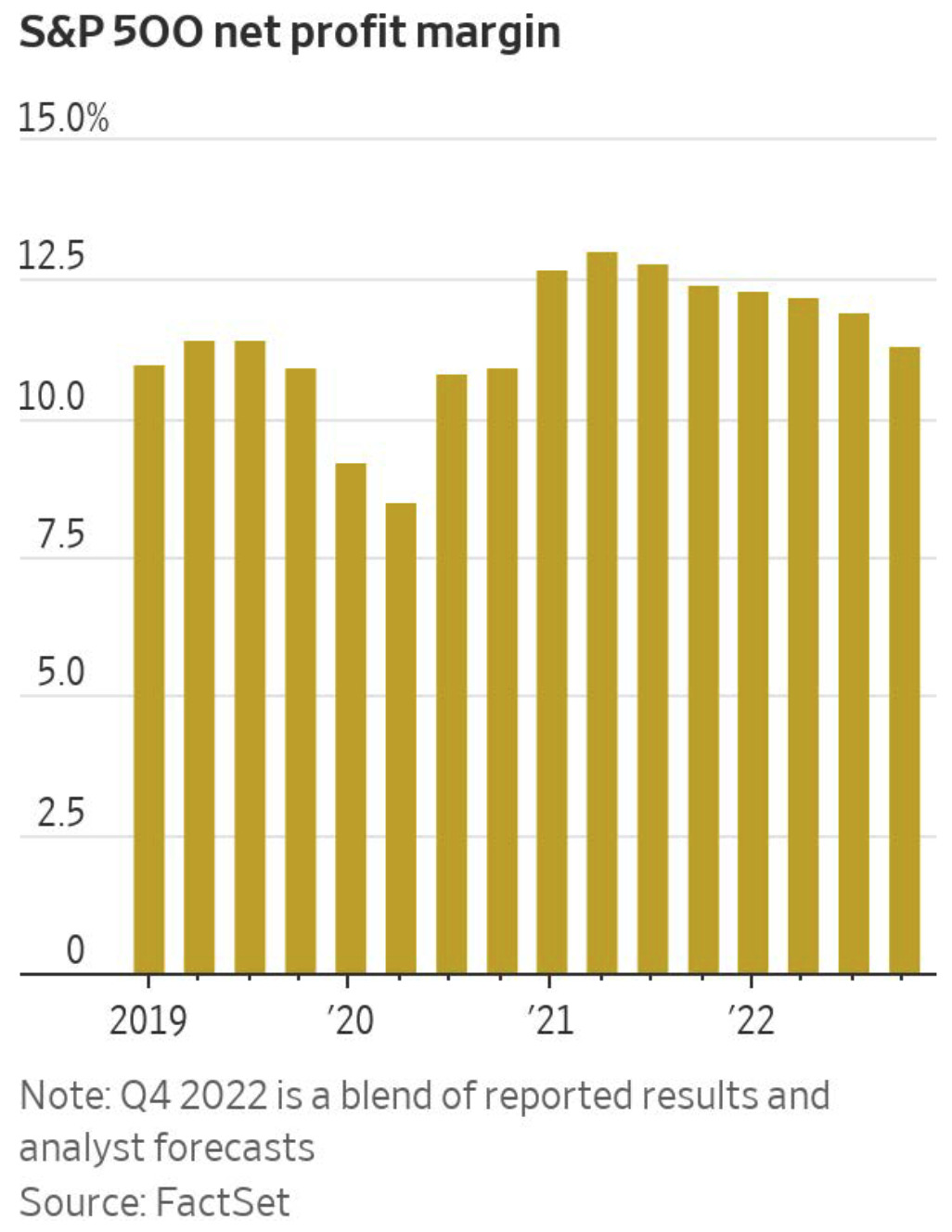 Delinquent
. Subprime auto debt delinquencies spiked last year, with the percentage of subprime auto debt 30 or more days delinquent reaching its highest level since 2009 as inflation pressured consumer budgets.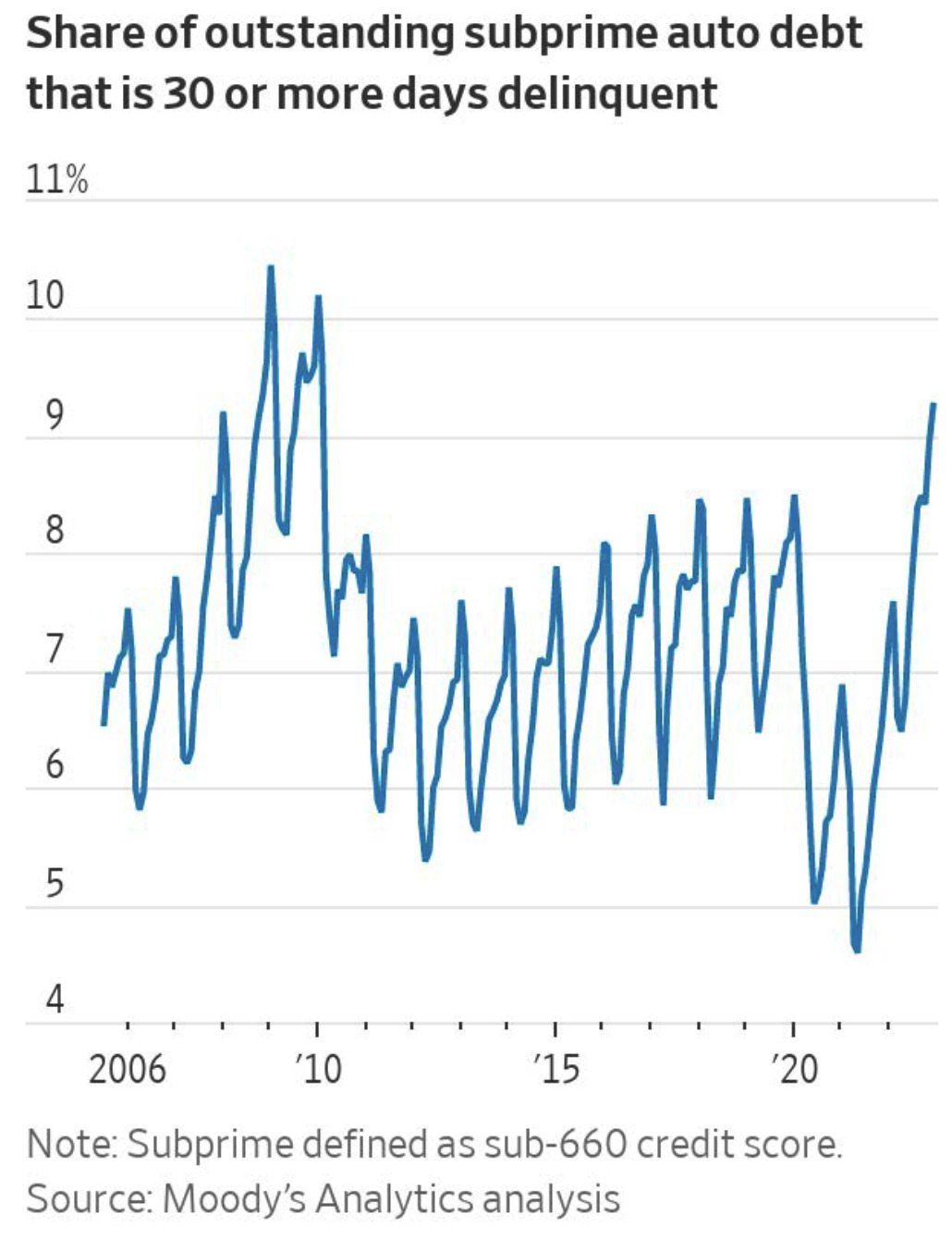 By The Numbers
$19.357 trillion: Total U.S. bank deposits at the end of the third quarter, down $206 billion in Q3 after falling $370 billion in Q2, the first time deposits fell for 2 consecutive quarters since 2010
$986 billion

: Amount of credit card debt outstanding at year end, up $61 billion quarter over quarter. Q4 represented the largest-ever quarterly increase and the highest total amount outstanding since the series began in 1999

$570 billion

: Size of the worldwide digital advertising market

$190 billion

: Estimated total wrongfully dispatched pandemic benefits according to the Labor Department, a $30 billion increase compared to the agency's prior estimate

$20 billion

: Estimated incremental annual market opportunity from generative AI chips by 2027, according to Bank of America

$5 billion

: Target size for Tiger Global's newest venture capital fund, less than half of the $12.7 billion fund Tiger raised in 2021 and 2022

2 billion

:

Number of active devices in Apple's installed base as of Q4, up 150 million year over year
935 million

: Number of Apple services subscriptions, up 35 million quarter over quarter and 150 million year over year

$103 million

: Amount of interest income Airbnb earned on its own cash and on customer funds in Q4, up from just $4 million a year earlier and equivalent to almost a third of the company's total profit for the quarter

72.3 million

: Number of iPhone units shipped in Q4 according to IDC's Worldwide Quarterly Mobile Phone Tracker, down 14.9% year over year

11.4 million

: Number of Robinhood monthly active users in Q4, down nearly 50% from over 21 million at their peak in early 2021

11 million

: Number of job openings at the end of December, nearly double the number of unemployed people looking for work that month
517,000

: Number of U.S. nonfarm payroll jobs added in January, nearly triple the consensus estimate of 187,000. As a result, the unemployment rate declined to 3.4%, the lowest level in 53 years

226: Number of venture capital funds limited partners invested in during Q4, the fewest for that time period since 2012 and down from 620 funds in the last three months of 2021
32

: Number of Grammy awards won by Beyoncé during her career thus far, an all-time record broken at this year's Grammy awards

7 years

:

Apple's December quarter earnings missed the consensus estimate for the first time in almost 7 years

6x

: AI has become a fixation for tech executives, who mentioned AI and related terms during Q4 calls as much as six times more often as they did on Q3 calls
93%

: Google's share of the worldwide search market, compared to 3% for Microsoft's Bing

74%

:

At the end of 2022, people in Vanguard-administered 401(k) plans held 74% of their assets in stocks, up from 72% in 2020

58%

: Among the 1,700 plans that use Vanguard's administrative services, 58% automatically enrolled new hires, mainly into target-date funds, in 2022, up from 32% in 2012

33%

: McKinsey estimates 60% of the 800 occupations listed by the Bureau of Labor Statistics could see ~33% of their activities automated over the coming decades

8.7%

: Year-over-year increase in Social Security and other government pension payments in 2023, the largest increase in 40 years

1%

: Year-over-year U.S. GDP growth in Q4

-12%

: Change in U.S. mobile videogame software spend in Q4 vs. the prior year