The Market Monitor
Bad News Is Good News
Stocks rallied to start the year, with the Nasdaq's 11% gain marking the best January return since 2001. This was in spite of lackluster earnings reports from tech bellwethers like Microsoft, Intel, and Texas Instruments earlier in the month. Microsoft recorded its
slowest sales growth in more than six years
as PC-related software sales declined, and the company forecasted slower sales growth in its Azure cloud services business in the first quarter. Global PC shipments declined 28.5% year over year in Q4, the worst decline on record according to
Gartner
. Intel reported a 32% Q4 sales decline and forecasted
a first quarter loss
, while Texas Instruments, which supplies chips to a broad range of end markets, reported
sequential sales declines
across all customer industries except automotive.
At this point in the market cycle, bad news may be good news for stocks. Inflation remains the most important topic on investors' minds, and weaker demand supports slower inflation. Markets rallied with the release of government data showing inflation
continued to decelerate
in December on a year-over-year basis, with the consumer price index actually
falling in December
relative to the prior month. If stock prices continue to rally, equity capital markets activity may begin to pick up. Nasdaq's CEO Adena Friedman noted the
IPO pipeline remains strong
, with companies waiting for market conditions to improve before they pull the trigger.
Nothing these days excites technology investors more than ChatGPT, which wrote a decent summary of the 2021 U.S. economy and financial markets in our last newsletter. The chatbot continued to rack up headline-grabbing accomplishments in January, including
passing all three parts of the U.S. Medical Licensing Examination
. Students are paying attention. According to Copyleaks research cited in a Wall Street journal article, during the second week of January a sampling of papers from all grade levels from around the world revealed that
10% had used ChatGPT
. With the era of generative artificial intelligence upon us, will many of us soon be looking for new lines of work?
Speaking of layoffs, every day a new technology company seems to announce a workforce reduction. Interested readers can see a comprehensive list
here
. Silicon Valley exceptionalism is being challenged, with management teams under pressure to reduce costs and expand margins. In this month's newsletter, we discuss the surge in investor activism at technology companies last year, which appears likely to continue in 2023.
We hope you enjoy reading this month's Monitor and pass it along to others to subscribe. Happy reading!
Tech Activism On The Rise
According to a recent report from
Lazard
, the number of activist campaigns increased 36% in 2022 to the highest level since 2018. Data show that the strategy was increasingly popular worldwide, and across industry sectors.
Technology was the most frequently targeted sector in 2022, representing 21% of activist targets. According to Lazard, the extraordinary decline in technology company valuations created an opportune environment for activists who approached the sector in record volumes. This was especially true in the U.S., where the Technology sector accounted for 27% of 2022 campaign activity.
According to the New York Times, nontraditional activists, including institutional firms, private equity firms and individual investors, were responsible for 23% of campaigns, nearly double the historical average. The Times cites Rich Thomas, a Lazard managing director, who said "the big headline-grabbing activist funds, they are not really driving the biggest level of activity anymore." Thomas also noted a shift by activists towards agitating for M&A or other corporate actions: "Where the real money is is around those strategic and transactional activism theses, as opposed to operational ones," Thomas said.
Salesforce is the current poster child for shareholder activism with not one or even two, but four separate activist investors involved in the stock. Last week, the company announced the appointment of
three independent directors
, including Mason Morfit, Chief Executive Officer and Chief Investment Officer of activist investment firm ValueAct Capital.
With proxy season around the corner, technology company managers and their Boards of Directors may want to consider areas of vulnerability and discuss strategic responses to potential activist demands with their IR partners.
Image of the Month
After 15 Rounds of Voting, Kevin McCarthy Was Finally Elected House Speaker on January 7th.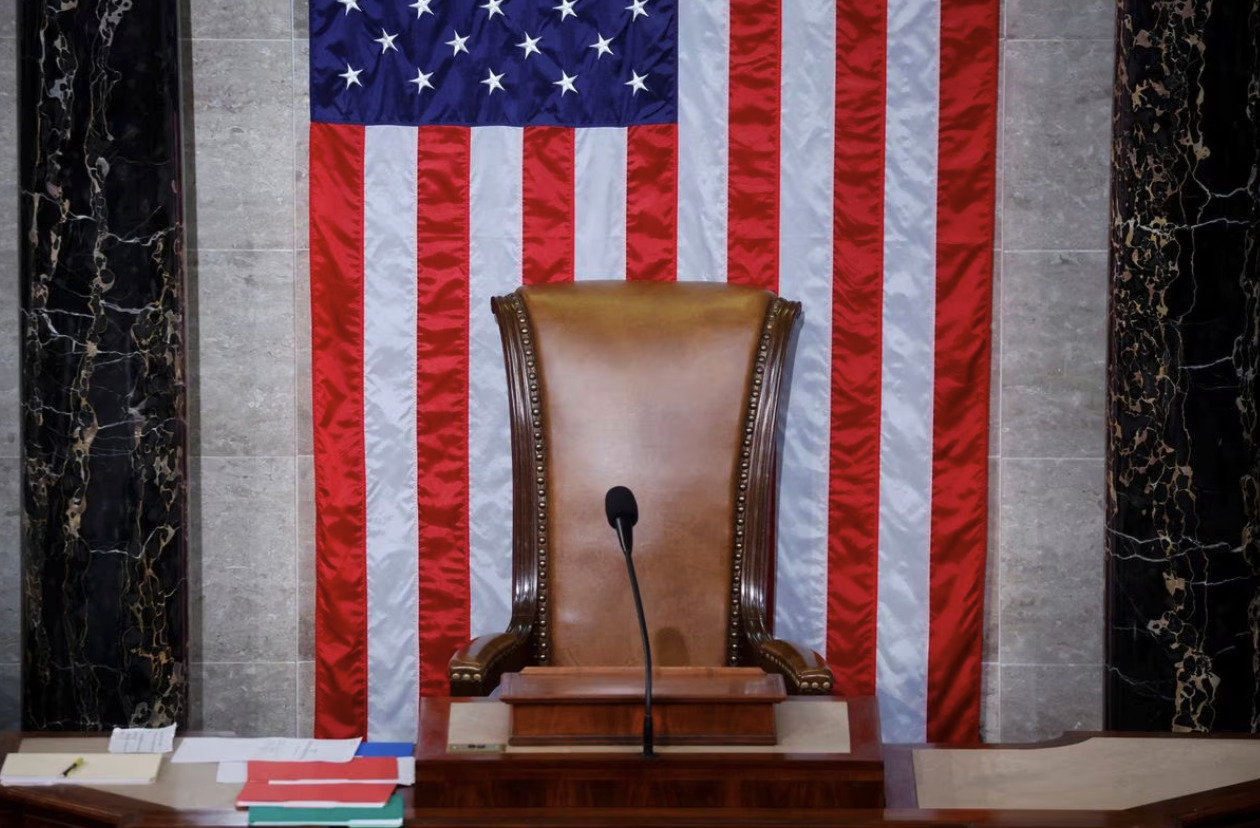 Chart Series
King Dollar Takes a Breather.
After a historic run-up, the U.S. dollar has recently given up some ground relative to international currencies in a boon to U.S. exporters, including many technology companies. Year-over-year gains, which were running as high as 15% during the fourth quarter, were more recently running at around 5%.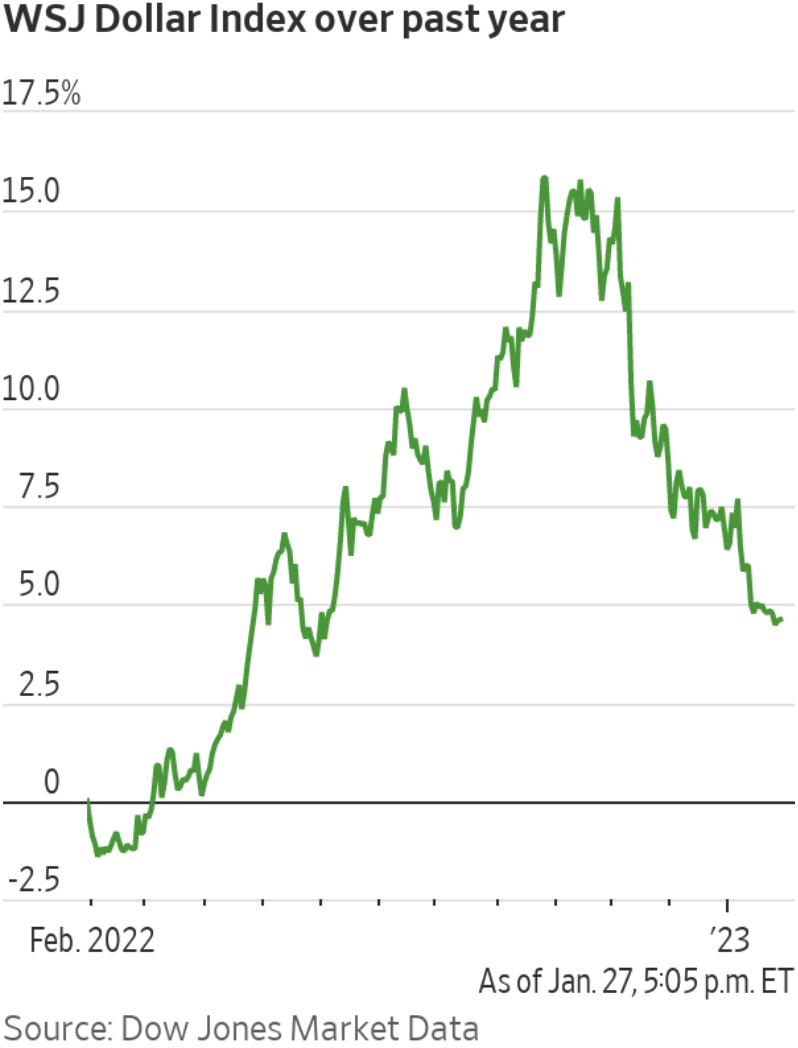 Less Help Wanted.
On January 6th, there were 9.9% fewer postings on Indeed.com compared to the prior year. Among the sectors with the steepest declines were software development (down 38.5%), media (down 30.8%), and banking and finance (down 25.6%).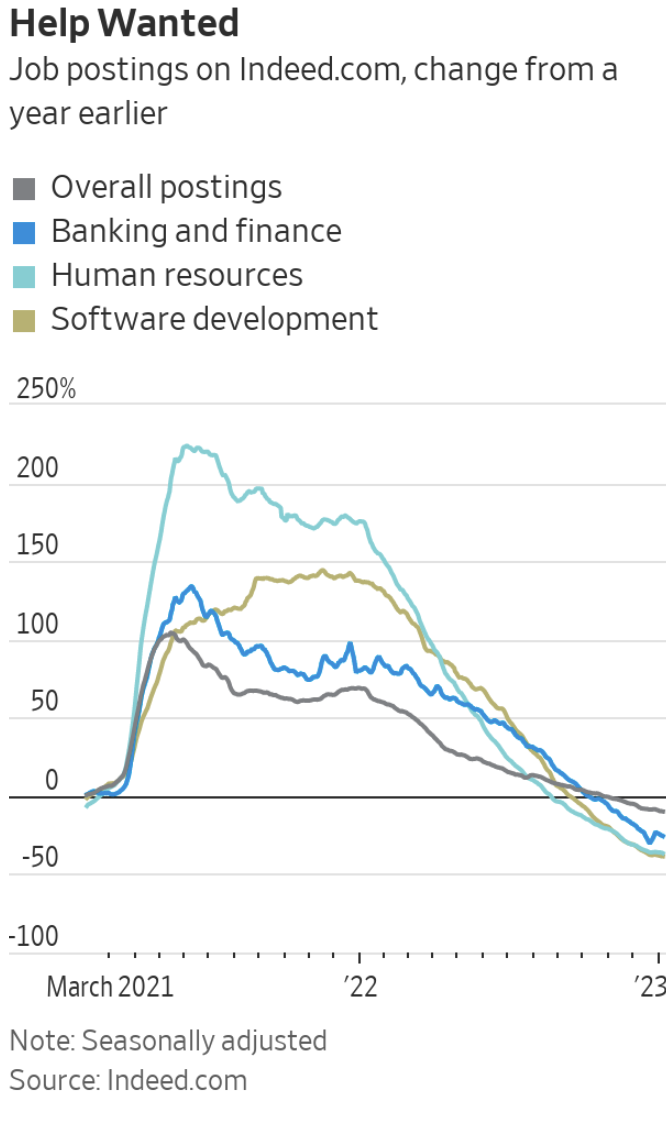 Monopolists?
As governments around the world launch antitrust investigations against U.S. tech giants, their combined share of the nation's advertising revenue is falling. Google, Meta, and Amazon accounted for a combined 48.4% of U.S. digital-ad spending in 2022, according to estimates from research firm Insider Intelligence. Their combined U.S. market share hadn't been under 50% since 2014, and is expected to drop to 44.9% this year.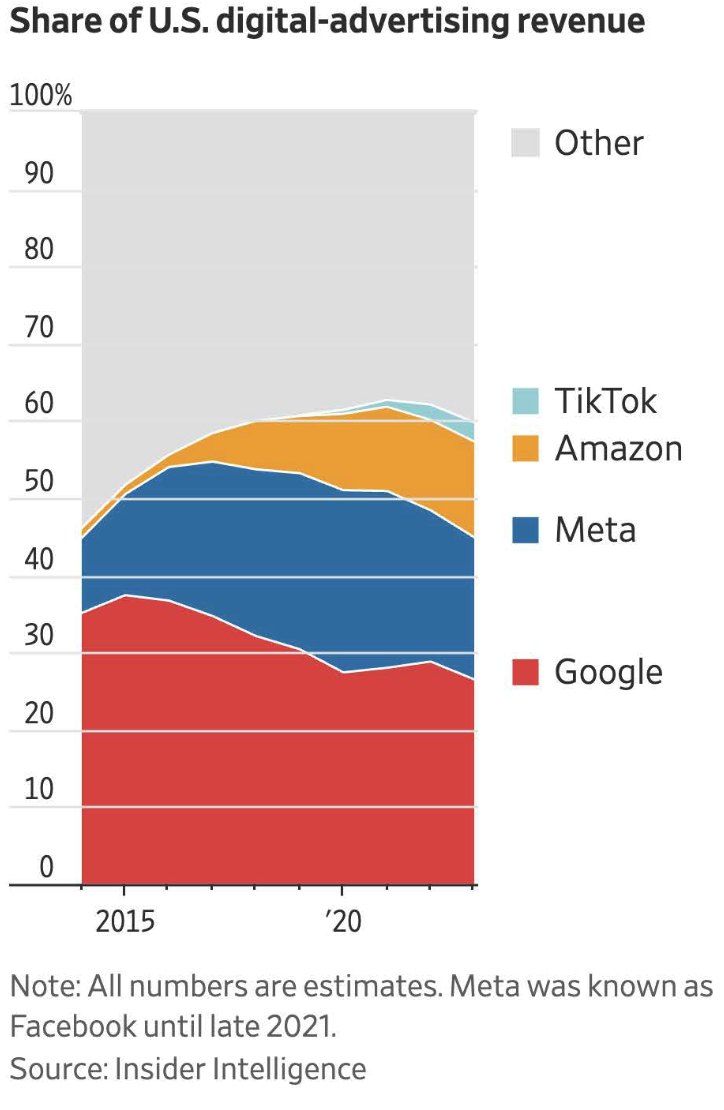 Sharing the Wealth
. Since the pandemic, production and nonsupervisory workers' share of average wages has increased to levels well above post-global financial crisis averages. Eye-popping CEO pay packages apparently don't tell the whole story!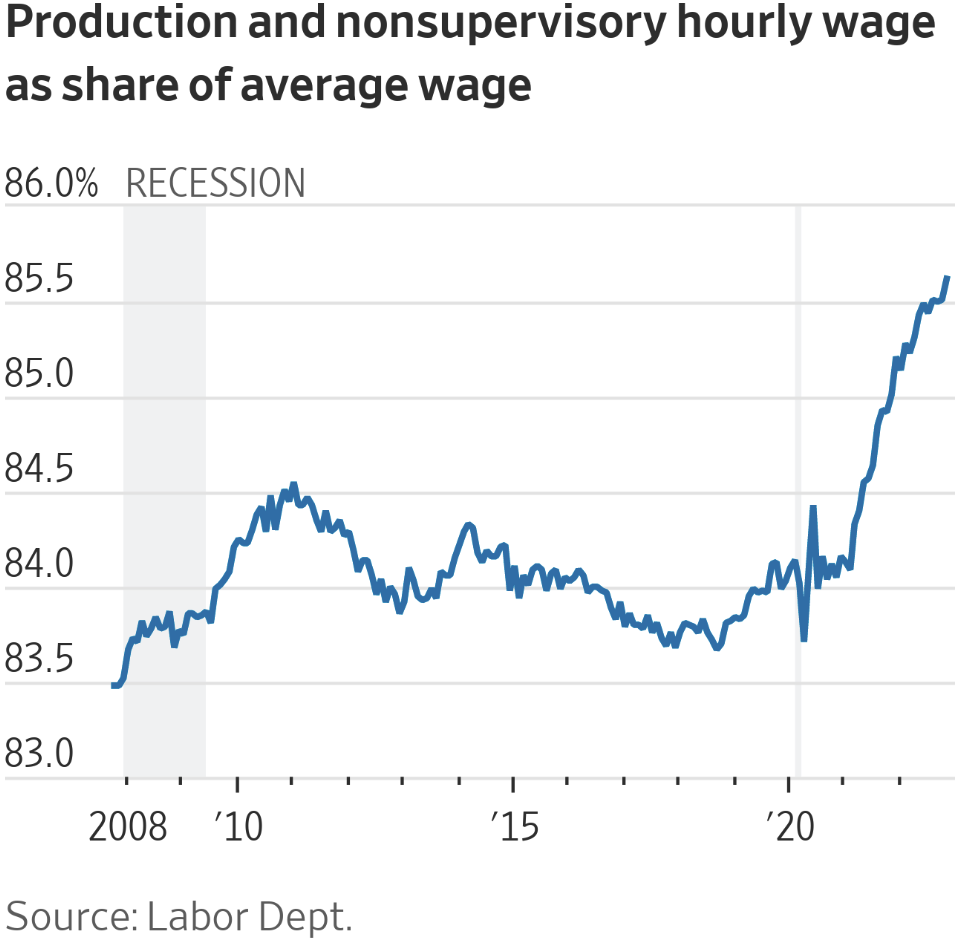 By The Numbers
$28 trillion:

estimated cumulative learning loss over the course of the rest of the century, or $70,000 of lifetime earnings for each child who was in school during the pandemic, according to a new study by a Stanford economist

$3.7 trillion

: value of global M&A in 2022, down from $5.9 trillion in 2021

$1.3 trillion

: estimated private equity dry powder at the end of 2022, compared to $580 billion globally for VC, according to Lightspeed Venture Partners

$1 trillion

: corporations executed a record $1 trillion worth of share buybacks in 2022, according to Goldman Sachs
$517 billion:

global equity underwriting in 2022, down 66% year over year

$200 billion

: estimated combined 2022 profits of Western energy firms

$137 billion

: SpaceX's reported valuation in its most recent funding round

$132 billion

: decline in Elon Musk's net worth in 2022

$29 billion

: reported ChatGPT valuation in its most recent funding round

$17 billion

: estimated annual robot sales in 2022, up 10% from a record level of $15.5 billion in 2021

$13 billion

: ExxonMobil's fourth quarter profit, up 44% from a year ago

$7 billion

: J.P. Morgan's fourth quarter mortgage originations, down from $42 billion a year ago and the lowest since 2004

1.41 billion

: China's population at the end of 2022, down 850,000 relative to the prior year as the birth rate reached its lowest level on record

$1.3 billion

: Goldman Sachs fourth quarter profit, down 66% from a year ago
70 million

: number of Roku active accounts at the end of 2022

7.8 million

: global sales of fully electric vehicles in 2022, an increase of 68% from the previous year

4.5 million

: number of new jobs added in the United States in 2022, an average monthly increase of 375,000

1.4 million

: number of copies of Prince Harry's memoir that were sold on its first day in the U.S., Canada and the U.K., the largest first-day sales total for any of Penguin Random House's nonfiction books
826,000

: number of unemployed workers had been out of a job for about 3½ to 6 months in December, up from 526,000 in April 2022

$385,000

: high end of pay range for a flight attendant on Netflix's private jet

150,000

: number of tech workers laid off in 2022, according to layoffs.fyi

$136,260

: rent owed to Twitter's landlord at 650 California St. according to a lawsuit

16,700

: number of Southwest Airlines flights canceled in December

500

: number of the Twitter's top advertisers who have paused spending on the platform, resulting in an estimated 40% year-over-year decline in daily revenue
40 days:

semiconductor inventory levels are at their highest levels in more than a decade or about 40 days above the median for the chip industry and its supply chain, according to UBS

$15.17

: average fast-food worker's hourly wage in October, up 26% from before the pandemic
38.5%

:

year-over-year decline in software development postings on Indeed.com on January 6th

33%

: percentage of members of Congress who received campaign donations from FTX

28.5%

: PC unit shipments declined 28.5% year over year during Q4, according to Gartner, the worst decline on record

10%

: estimated percentage of papers written by students at all grade levels that used ChatGPT during the second week of January