The Market Monitor
A Tough Year
2022 has been a tough year (putting it mildly) to be an American investor. Year to date, U.S. investors have lost in excess of
$8 trillion
across asset classes as the Federal Reserve tightened monetary policy at the fastest pace since the early 1980s. Lower stock prices and increased volatility have put a damper on the IPO market (again, putting it mildly). Year to date, the number of IPOs in the Americas decreased 76% while the combined value of those IPOs decreased 95% to the
lowest level in 20 years
.
Technology stocks have been hit especially hard. The NASDAQ Composite Index is down 34% year to date, far worse than the 21% decline in the S&P 500 Index and the 10% decline in the Dow Jones Industrial Average. And some of the largest tech companies have seen their stock prices fall further still—Amazon is down 51%, Netflix 52%, and Meta a whopping 66%. In the world of enterprise software, nearly every company noted elongated sales cycles and greater scrutiny on deals in Q3 as CFOs reined in expenses. And on its earnings call last week, FedEx highlighted this year's "e-commerce reset," with e-commerce decreasing to around 18-19% of retail sales from an all-time high of 22% during the pandemic (though still above the 16% pre-pandemic level).
Due to the highly leveraged nature of most real estate transactions, housing has been hit especially hard this year as mortgage rates spiked to their highest levels since before the global financial crisis. Existing home sales declined for a 10th consecutive month in November, the longest losing streak since the National Association of Realtors began tracking the data in 1999.
Yet even amidst these dour statistics, technological advances continue unabated. The hottest topic in tech today is undoubtedly
ChatGPT
, the recently unveiled AI-driven chatbot from Elon Musk-baked OpenAI. The New York Times views the technology, which recently received a passing grade on an
AP English essay
, as a potential
Google Search killer
. Just for fun, we asked ChatGPT to write a 250-word summary of the U.S. economy and financial markets in 2021 (the chatbot informed us that it could not provide a 2022 summary as its training data ends in 2021 and it is unable to browse the internet or access any new information). We've included the output in the following section—you be the judge!
Also in this issue we highlight a contrarian call by Goldman Sachs, which is more bullish than most on the U.S. economic outlook heading into next year. Let's hope they're right.
We hope you enjoy reading this month's Monitor and pass it along to others to subscribe. Happy reading!
Chat GPT: The U.S. Economy & Financial Markets in 2021
As noted above, we asked ChatGPT to write a 250-word summary of the U.S. economy and financial markets in 2022 but its training data ends in 2021 and it is unable to browse the internet or access any new information, so a look back on 2021 will have to do.
"The economy and financial markets in 2021 were influenced by a range of factors, including the ongoing COVID-19 pandemic and the efforts to contain it, as well as global economic and political developments.
In the early months of 2021, the economy and financial markets faced challenges due to the ongoing impact of the COVID-19 pandemic. Many countries implemented lockdowns and other measures to contain the spread of the virus, which disrupted economic activity and led to high levels of unemployment. As a result, the global economy contracted in 2020, and many countries faced economic recession.
However, as the year progressed, economic activity began to recover in many parts of the world as governments lifted lockdown measures and vaccinated more of their populations. In the United States, for example, the economy grew at a strong pace in the third quarter of 2021, fueled by strong consumer spending and an increase in business investment.
Financial markets also recovered in 2021, with major stock indexes reaching new highs. The Dow Jones Industrial Average, for example, reached a new all-time high in August 2021, and the S&P 500 also set new records during the year. The recovery in financial markets was supported by accommodative monetary policies and the rollout of vaccines, which increased investor confidence and reduced uncertainty.
Overall, the economy and financial markets in 2021 were impacted by the ongoing COVID-19 pandemic and the efforts to contain it, but they also showed signs of recovery as the year progressed. However, the economic outlook for 2021 remained uncertain, as the pandemic and its economic impacts continued to evolve."
Too bad it can't predict the future but for that, we point out Goldman Sachs' contrarian call on 2023...
With economists forecasting a 65% probability that the U.S. will enter into a recession in 2023 according to a recent Wall Street Journal poll, the team of economists at Goldman Sachs is making a decidedly contrarian call. In a piece titled "Macro Outlook 2023: This Cycle is Different", Goldman forecasts 1.8% global GDP growth in 2023 and argues that the U.S. will be able to avoid a recession. They support their call by pointing out that economic indicators, such as non-farm payrolls and initial jobless claims, are "nowhere close to recessionary" and real disposable personal income has started to rebound in November compared to the first half of 2022. The research argues that this cycle is different because labor market overheating showed up as unprecedented job openings, not in excessive employment as with the 1970s recession. In addition, supply chains and the rental housing market are beginning to normalize and are not yet showing up in the numbers. While that's good news for the U.S., Goldman expects Europe and the UK to enter into a recession in 2023 while China is expected to grow slowly due to increased COVID cases in the first half of the year driven by the country's sudden reversal of its zero COVID policy.
Image of the Month
Crowd gathered in downtown Buenos Aires to celebrate Argentina's victory over France in the 2022 World Cup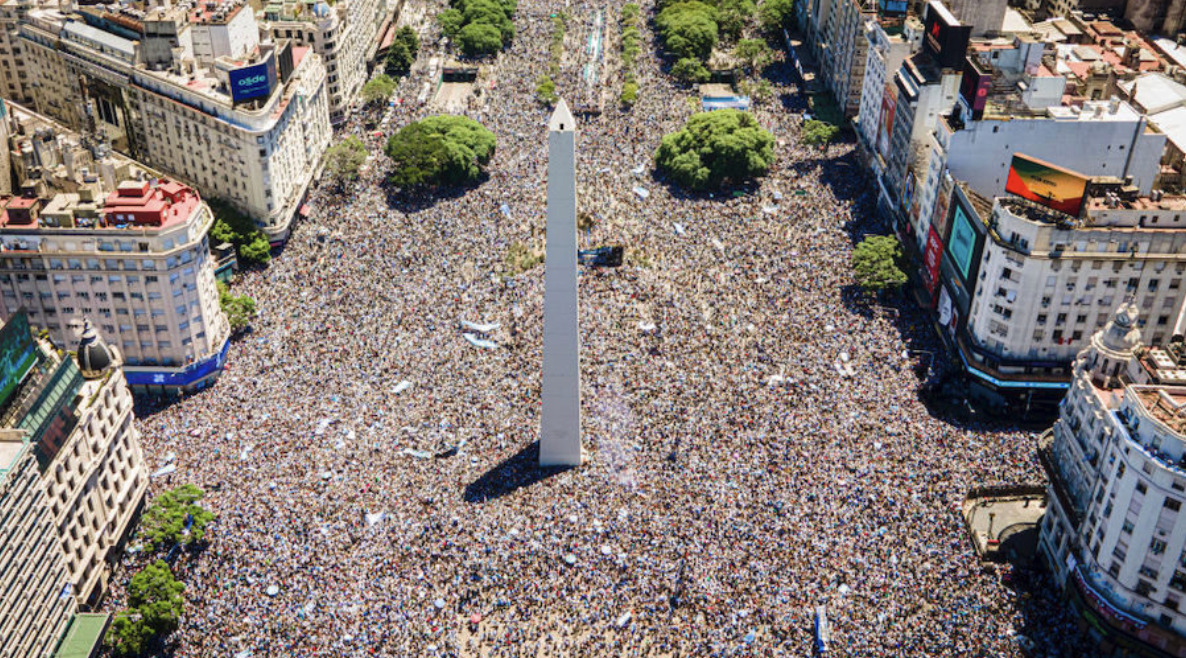 Image Credit:
Marcelo Endelli/Getty Images
Chart Series
Sell This House?
Sales of previously owned homes declined 7.7% in November from the prior month to a seasonally adjusted annual rate of 4.09 million, the weakest rate since May 2020. November sales fell 35.4% from a year earlier. According to the National Association of Realtors, the streak of declines is the longest in data going back to 1999. The median existing-home price rose 3.5% year over year in November, marking the 129th consecutive month of year-over-year increases, the longest-running streak on record.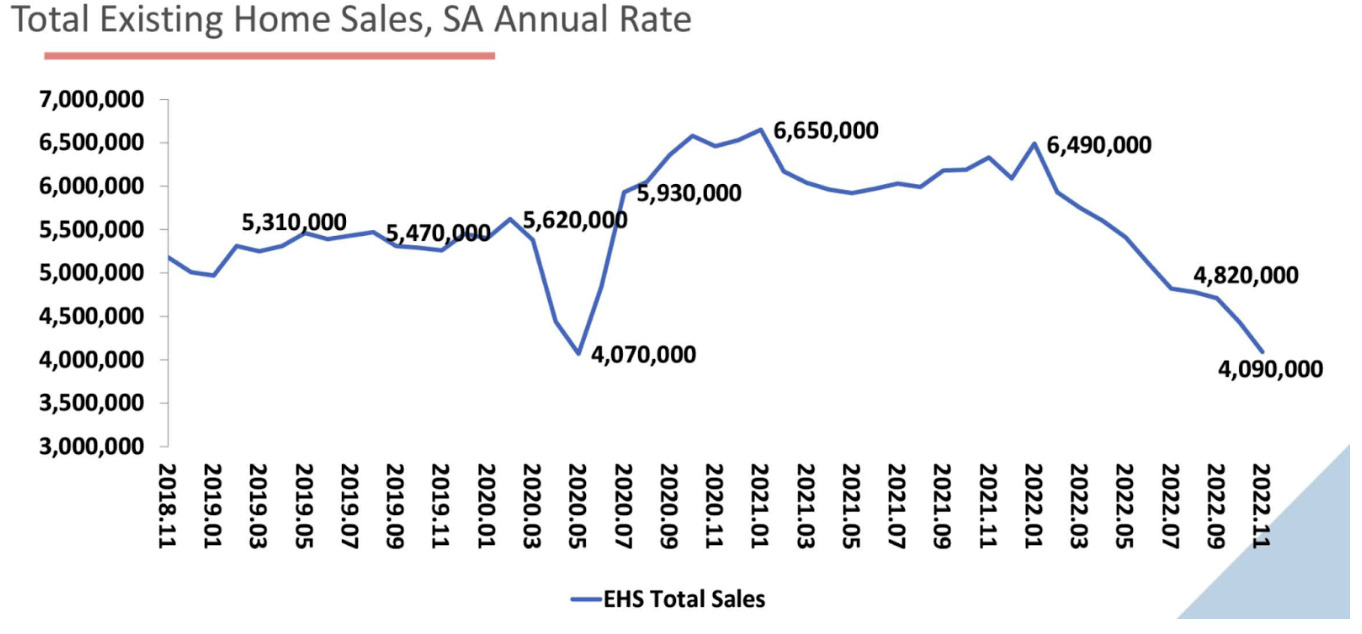 Firmer Footing.
With the slowing housing market grabbing a lot of headlines, it's worth noting that the market is on much firmer footing today than it was prior to the 2008 housing crisis. While home prices have increased dramatically since 2008, housing debt has increased only slightly in absolute dollar terms, resulting in over $30 trillion of home equity to cushion any home price declines.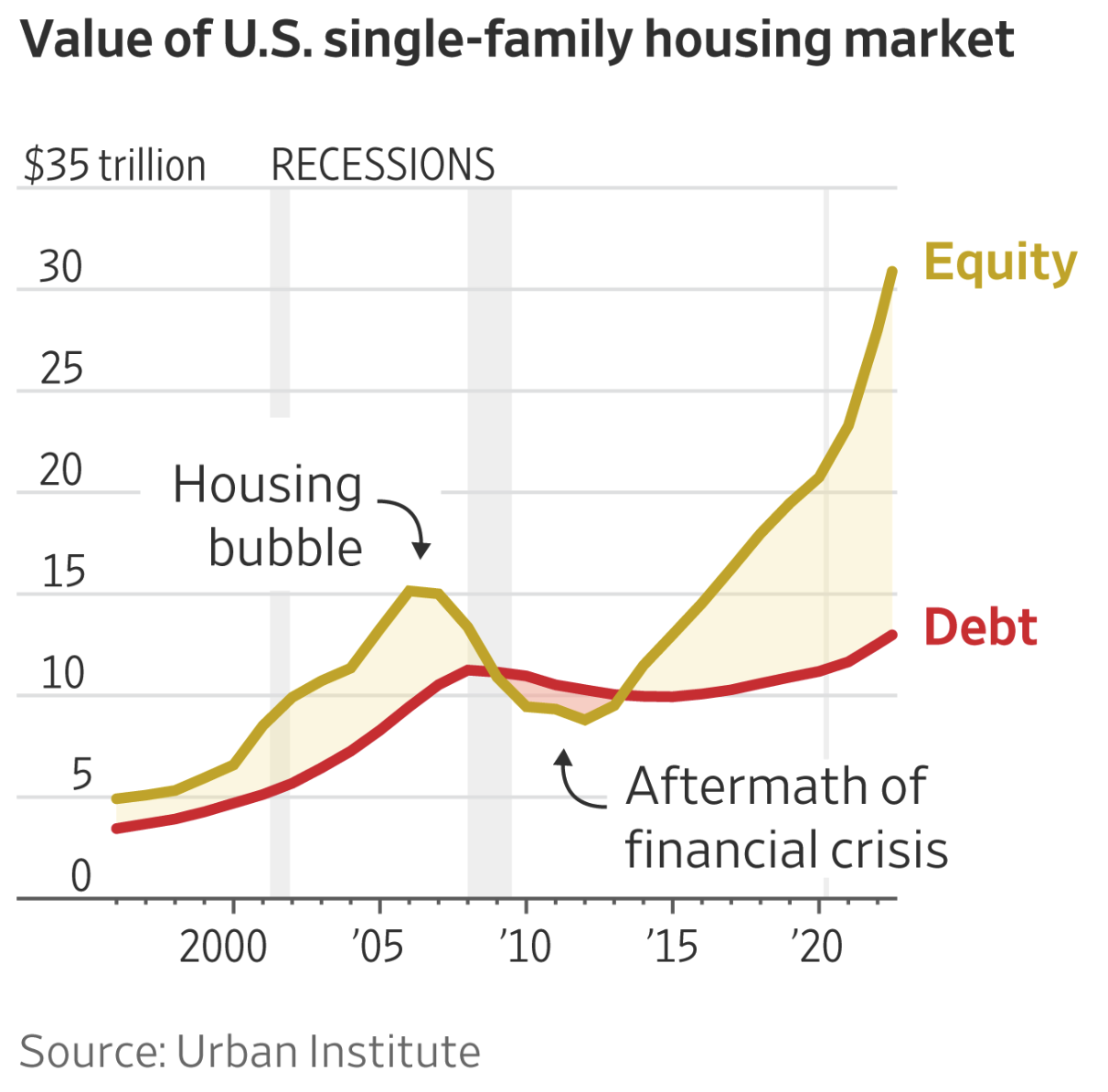 Money on the Table.
Do you have savings parked at a bulge bracket bank? It may be time to consider a high yield savings account. According to S&P Global Market Intelligence, Americans left over $40 billion on the table during the third quarter by sticking with banks who are pocketing the difference between rising short-term rates and near-zero deposit rates.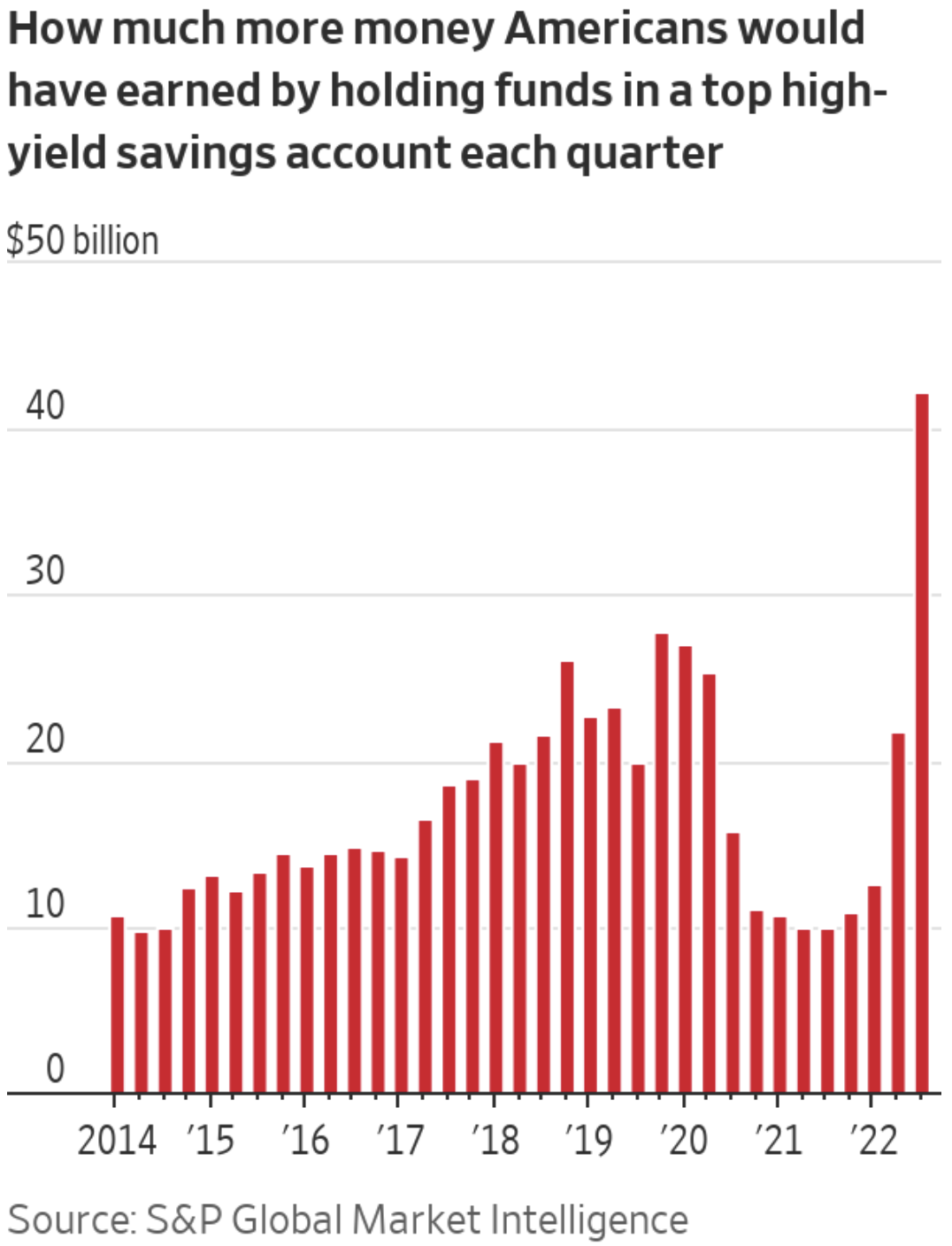 Reduction in Labor Force.
According to the Bureau of Labor Statistics, the size of the U.S. civilian labor force remains largely unchanged today relative to the eve of the pandemic, a significant deviation from trend. This phenomenon is driving worker shortages, inflation, and tighter monetary policy.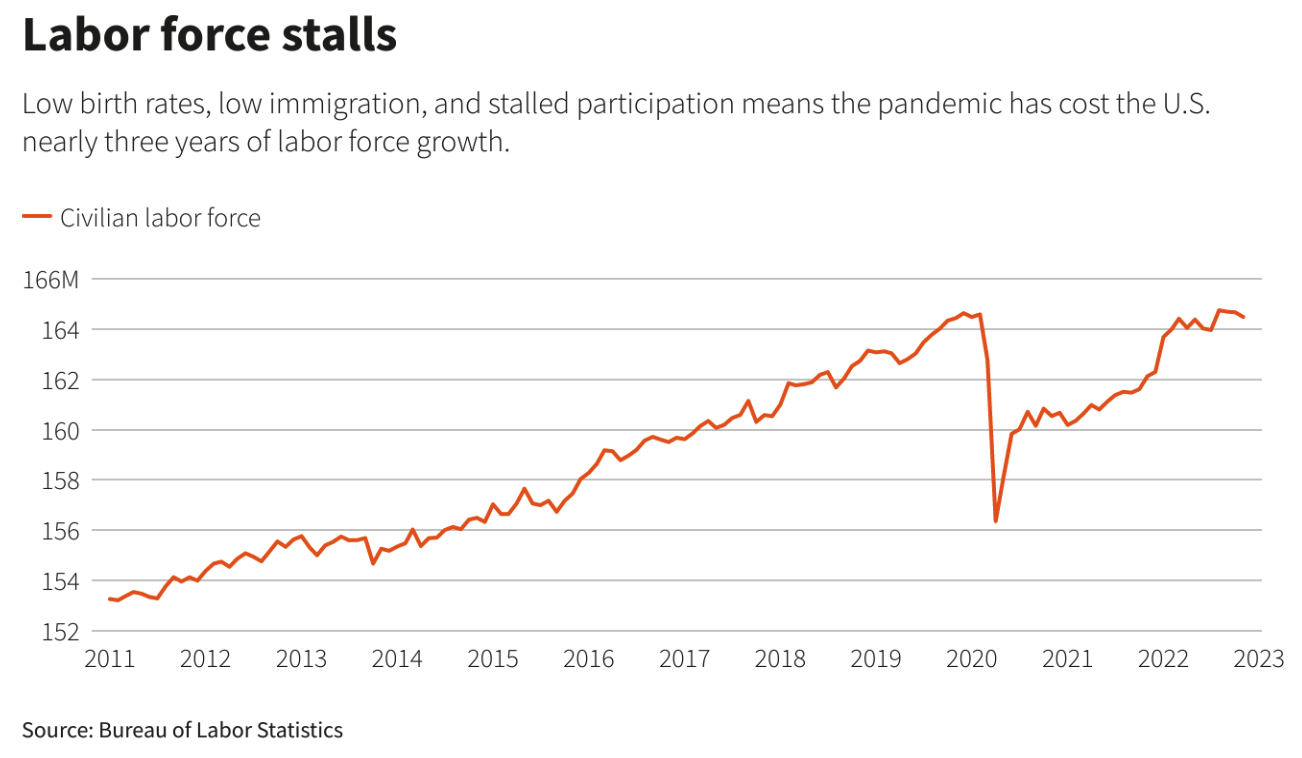 By The Numbers
$858 billion

: size of annual defense authorization bill passed by the Senate this month, $85 billion higher than President Biden's request

$320 billion

: size of Japan's 5-year military spending plan, the largest military buildup in the country since World War II

$291 billion

: amount of interest income Americans have sacrificed since the start of 2019 by keeping their savings in the five biggest U.S. banks

$143 billion

: size of China's planned investment to support its semiconductor industry

$40 billion

: size of TSMC's plan to expand and upgrade a U.S. production hub that it is building in Phoenix

$28 billion

: size of Amgen's announced acquisition of Horizon Therapeutics, one of the biggest transactions of 2022

$27 billion

: Saudi Arabia's estimated 2022 budget surplus, its first in nearly 10 years

$8 billion

: size of Thoma Bravo's planned acquisition of Coupa Software

$2.5 billion

: combined third quarter streaming losses from Disney, Warner Brothers Discovery, and Paramount

$2 billion

: size of Microsoft's investment in the London Stock exchange in return for a 4% stake and a 10-year strategic cloud partnership

$1.7 billion

: size of Juul's settlement in a Northern California case involving 5,000 schools which argued that Juul's vaping products were more addictive than advertised
$700 million

: amount of funding secured by Fanatics, the sports start-up founded by Michael Rubin, in a round that values the firm at $31 billion

50 million

: number of Americans who listen to AM radio
50,000

: number of substations on the U.S. electric grid, which spans more than 700,000 miles of transmission lines

10,000

: number of workers and their families Citadel treated to a weekend at Disney World to celebrate the firm's good year

7,122

: number of requests for information Apple received from U.S. authorities in the first six months of 2021, the last period for which the company has provided information

1,600

: number of workers laid off by Morgan Stanley earlier this month, following cuts at Barclays, Citigroup and Goldman Sachs. The Morgan Stanley reductions represent around 2% of the company's workforce

$1,935

: the cost of sending a standard 40-foot container from China to the U.S. West Coast, down more than 90% from its September 2021 peak of $20,586

1,333

: number of global IPOs in 2022, down 45% year over year

130

: number of U.S. IPOs in 2022, down 76% year over year and the lowest number in 13 years. Proceeds raised were $9 billion, down 95% and a 20-year low
60

: number of SPACs which liquidated in 2022 after being unable to complete a deal

13

: Theranos former No. 2 executive Ramesh "Sunny" Balwani was sentenced to almost 13 years in prison for his involvement in the fraud at the company

10

: number of consecutive months of existing home sales declines through November, the longest streak since the National Association of Realtors began tracking this data in 1999

5x

: OpenAI expects $1 billion of sales in 2024, a 5x increase from the $200 million of sales it expects in 2023

4x

: married couples hold an average of 4x as much wealth as unmarried couples living together

1.3x

: approximately 1.3x as many women are enrolled as men at 4-year colleges
69%

: November 2022 year-over-year decrease in global venture funding

63%

: economists put the chances of a recession over the next year at about 63%, up from 49% in July and the first time the probability has risen above 50% since July 2020

55-60%

: expected decrease in Bank of America's investment banking fees in Q4 relative to the prior year, according to CEO Brian Moynihan

45%

: increase in home prices between January 2020 and June 2022, according to the S&P CoreLogic Case-Shiller National Home Price Index

30%

: Bloomberg estimates J.P. Morgan, Bank of America, and Citigroup will cut annual investment banking bonuses by 30% in 2022 amidst a steep decline in M&A volumes

30%

: average decline in a retail investor's portfolio year-to-date in 2022, 13 percentage points below the S&P 500 Index

15%

: decline in used car prices since January, according to the Manheim Index of used car prices

10%

: decrease in the number of enrolled undergraduates during the pandemic

8%

of homes bought in 2022 were underwater as of September

7%

: decrease in job openings in October relative to the prior year