The Market Monitor
All Eyes on Expenses
Times have certainly been tough for technology companies. Cumulative layoffs have already exceeded
85,000
, according to a Crunchbase estimate, and appear to be heading higher. Cryptoland has been hit especially hard, with the list of bankruptcies driven by the collapse of FTX continuing to grow. In a recent Axios
interview
, ousted FTX CEO and co-founder Sam Bankman-Fried lamented the lack of regulation that allowed him to take spectacular risks. The 30-year-old, once worth $26.5 billion, now has an estimated $100,000 in his bank account and suggests his net worth may be negative.
On the economic front, housing was a drag on economic growth in Q3, and pending home sales declined 37% year over year in October amidst decades-high mortgage rates. The Fed has signaled its intention to slow the pace of interest rate increases to 50 basis points beginning in December, as peak inflation increasingly appears to be in the rearview mirror.
Given the current industry and macro dynamics, Goldman Sachs' co-head of TMT investment banking Matt Gibson is advising private technology clients to
delay IPOs
until 2023 while focusing on financial discipline. We agree, and would also advise public technology companies to emphasize their "prudent" and "disciplined" approach to investments in their investor messaging. These are among the key focus areas for investors today, and technology investors have little patience for speculative investments or persistently loss-making businesses in the current environment, with companies lacking a clear message on profitability increasingly finding themselves the targets of activist campaigns. Even Alphabet, which is viewed as one of the best positioned technology companies with substantial profitability, is being pressured by TCI to
cut costs
. The activist threat is especially high this year for 2 reasons: (1) activism tends to increase during times of slower capital markets activity; and (2) the new "universal proxy" rules are expected to drive a continued increase in
first-time activist campaigns
.
In this issue, we contrast the recent earnings calls of Disney, which was widely viewed as disastrous, and Target, an activist shareholder alum facing an adverse shift in consumer spending, in a column we are calling "Tone from the Top."
We hope you enjoy reading this month's Monitor and pass it along to others to subscribe. Happy reading!
Tone from the Top
This issue, we compare and contrast the third quarter earnings calls of Disney and Target. First, we set the stage by establishing that both companies reported disappointing Q3 results and provided disappointing Q4 guidance. We attribute the market's perception that Target continues to be a well-managed company with the consensus view that Disney's former CEO Bob Chapek's ouster from the company was a positive change at least in part to communications (not surprisingly given our profession!). In particular, we focus on each CEO's word choice, tone, and the clarity and credibility of the key financial messaging.
Q3 Actuals Revenue vs. Consensus
Revenue
$
20.2 billion, 5% miss
Revenue:
$23.4 billion current vs. $24.3 billion prior, 4% miss
EPS
: $0.79 current vs. $1.21 prior, 35% miss
Q3 Actuals Revenue vs. Consensus
Revenue:

$26.5 billion, <1% beat> 1%>
Revenue: $30.6 billion current vs. 32.0 billion prior, 4% miss
EPS
: $1.40 current vs. $3.29 prior, 57% miss
We loaded each of Target and Disney's CEO scripts into
WordCloud Generator
, a free tool. Each CEO emphasized the company's focus on the customer ("guest," "consumer," "audience," "fan", "advertiser") and its brands ("Target," "Disney+," "ESPN"). Interestingly, Target's word cloud includes both "growth" and "strong growth" in spite of the fact management guided to a 1% year-over-year sales decline in Q4. We liked that Target's word cloud also includes positive words associated with its employees ("team" and "effort"), a good reminder that the earnings call has multiple audiences.
Disney CEO Script Introduction
Fiscal 2022 was a

strong year

for our company as we continued our journey of telling incredible Disney stories, utilizing

groundbreaking

technology in order to further develop our brands and franchises while customizing and personalizing experiences to make magical memories that last a lifetime. Those efforts resulted in

truly phenomenal

storytelling,

record annual results

at our Parks, Experiences and Products segment, and

outstanding growth

at our Direct-to-Consumer services, which added nearly 57 million subscriptions this year to reach a total of more than 235 million.
Target CEO Script Introduction
As I begin the call today, I want to highlight the proactive leadership position we will continue to take as the

operating environment changes

. Just as we took decisive action in the second quarter to rightsize our inventory, we're moving proactively in a

period of rapidly softening demand

and

elevated uncertainty

to successfully navigate

near-term challenges

alongside our team and in step with our guests. As we look specifically at third quarter results, they demonstrate how our business continues to serve our guests even in the face of an

increasingly challenging backdrop

.
Clarity of Financial Messaging
While the CFO's script is typically the place for detailed financial messaging, the CEO often communicates a high-level financial message in their script. This message typically addresses a key area of investor focus. In Disney's case, investors have been most focused on Disney+ profitability (or lack thereof), whereas in Target's case investors have been most focused on margins. And while Disney's CEO did not provide specific quantitative guidance and hedged his financial message by conditioning it on the macro environment, Target's CEO provided clear and specific financial guidance without any conditions, which investors always appreciate.
Target CEO Financial Messaging (margins)
And to create additional capacity for us to continue investing in long-term growth and market share while also delivering strong bottom line performance, we are undertaking an enterprise-wide effort to identify opportunities to simplify and enhance the efficiencies of our business. I want to make it clear. This effort is not about slashing resources. Instead, it's about optimizing our operations to match the scale of our business. This effort is particularly important today because of the rapid and unanticipated level of scale our business has added since 2019 as total revenues have grown from less than $80 billion in 2019 to a projection of well over $100 billion this year. While our team has done an excellent job of staying agile and quickly accommodating all that growth, we now have an opportunity to look from top to bottom across all of our operations to ensure they are fully optimized for the size of our business. We're still in the process of fully scoping out this effort, but we believe it presents an opportunity to

save a total of $2 billion to $3 billion over the next 3 years

in support of our investments in long-term growth, along with our profit goals.
Disney CEO Financial Messaging (Disney+ profitability)
Our financial results this quarter represent a turning point as we reached peak DTC operating losses, which we expect to decline going forward. That expectation is based on 3 factors. First, the benefit of both price increases and the launch of a Disney+ ad tier next month. Second, a realignment of our cost, including meaningful rationalization of our marketing spend. And third, leveraging our learnings and experience in direct-to-consumer to optimize our content slate and distribution approach to deliver a steady state of high-impact releases that efficiently drive engagement and subscriber acquisition. With these factors, we believe we are on a path to profitable streaming business that generates shareholder value long into the future. And

assuming we do not see a meaningful shift in the economic climate

, we still expect Disney+ to achieve profitability in fiscal 2024 as losses begin to shrink in the first quarter of fiscal 2023.
Image of the Month
After being dormant for nearly 40 years, Hawaii's Mauna Loa has ended its longest quiet period in recorded history.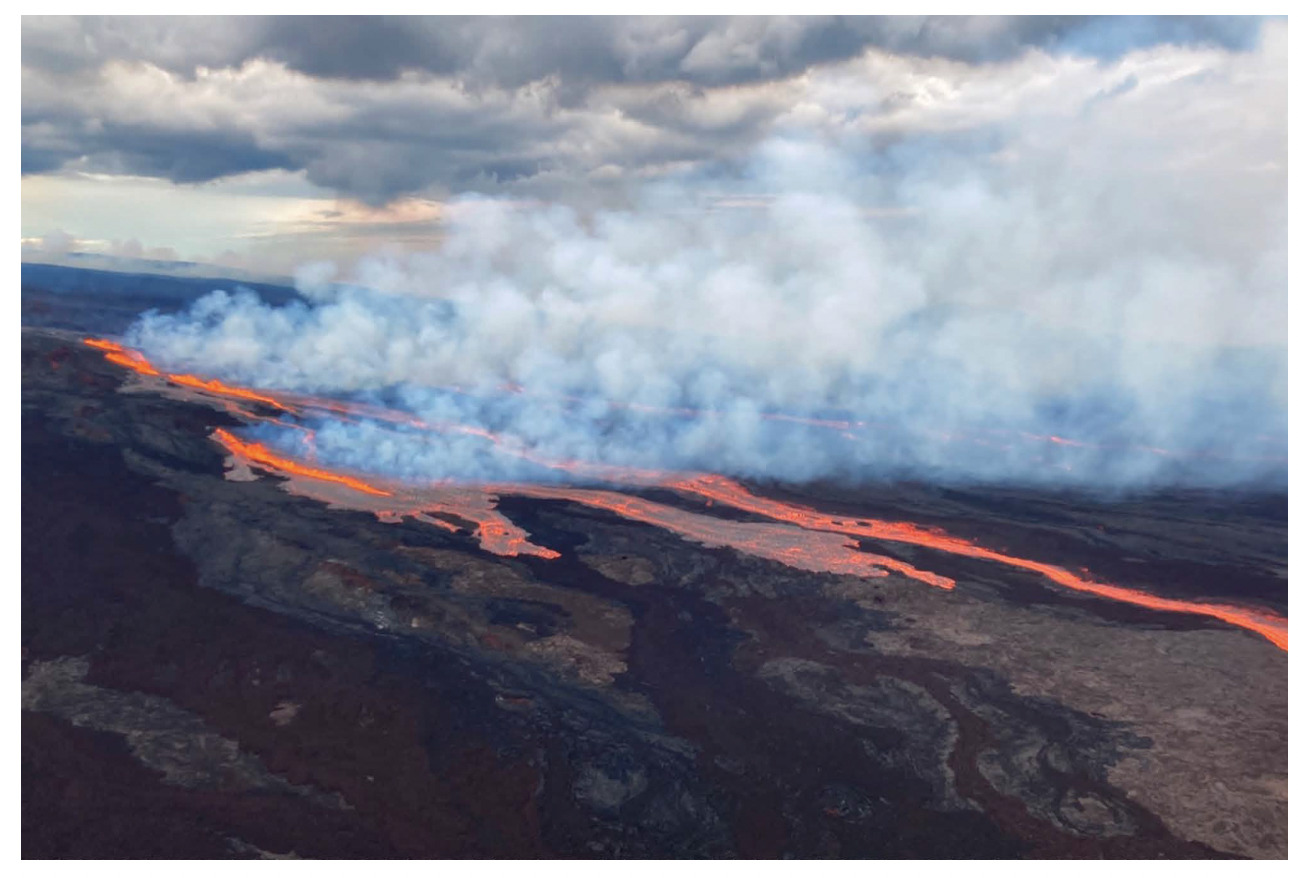 Image Credit: U.S. Geological Survey via AP
Chart Series
Saving Less.
The personal savings rate dipped to 3.1% in September, down from 3.4% in August, down from 8.2% in December, as personal income growth continues to lag inflation. According to a Fed paper, Americans had $1.7 trillion of excess savings as of Q2, down from a peak of $2.3 trillion in Q3 of last year.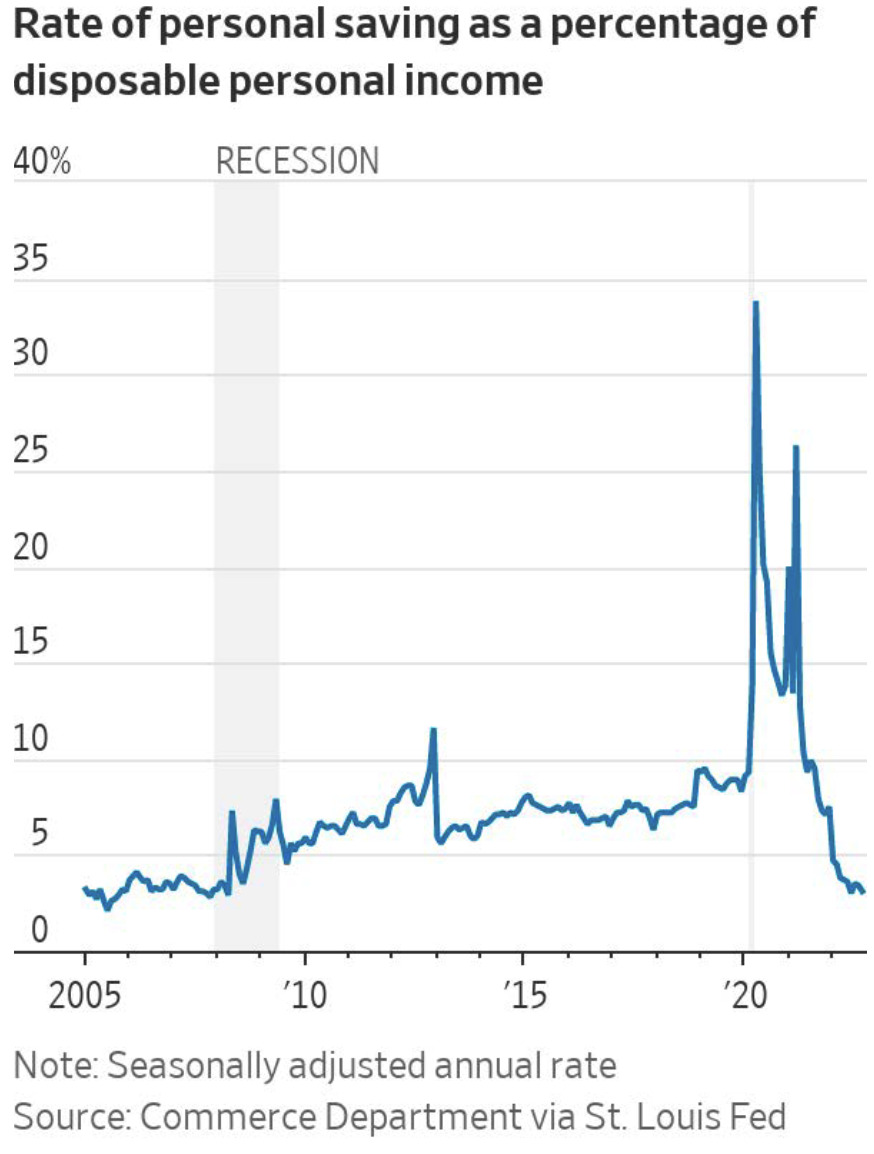 The Least Dirty Shirt.
By one valuation measure, U.S. stocks are roughly 80% more expensive than international stocks. Over the past 47 years, U.S. stocks have traded at a slight discount to international stocks on the same valuation basis. Time to look for bargains abroad?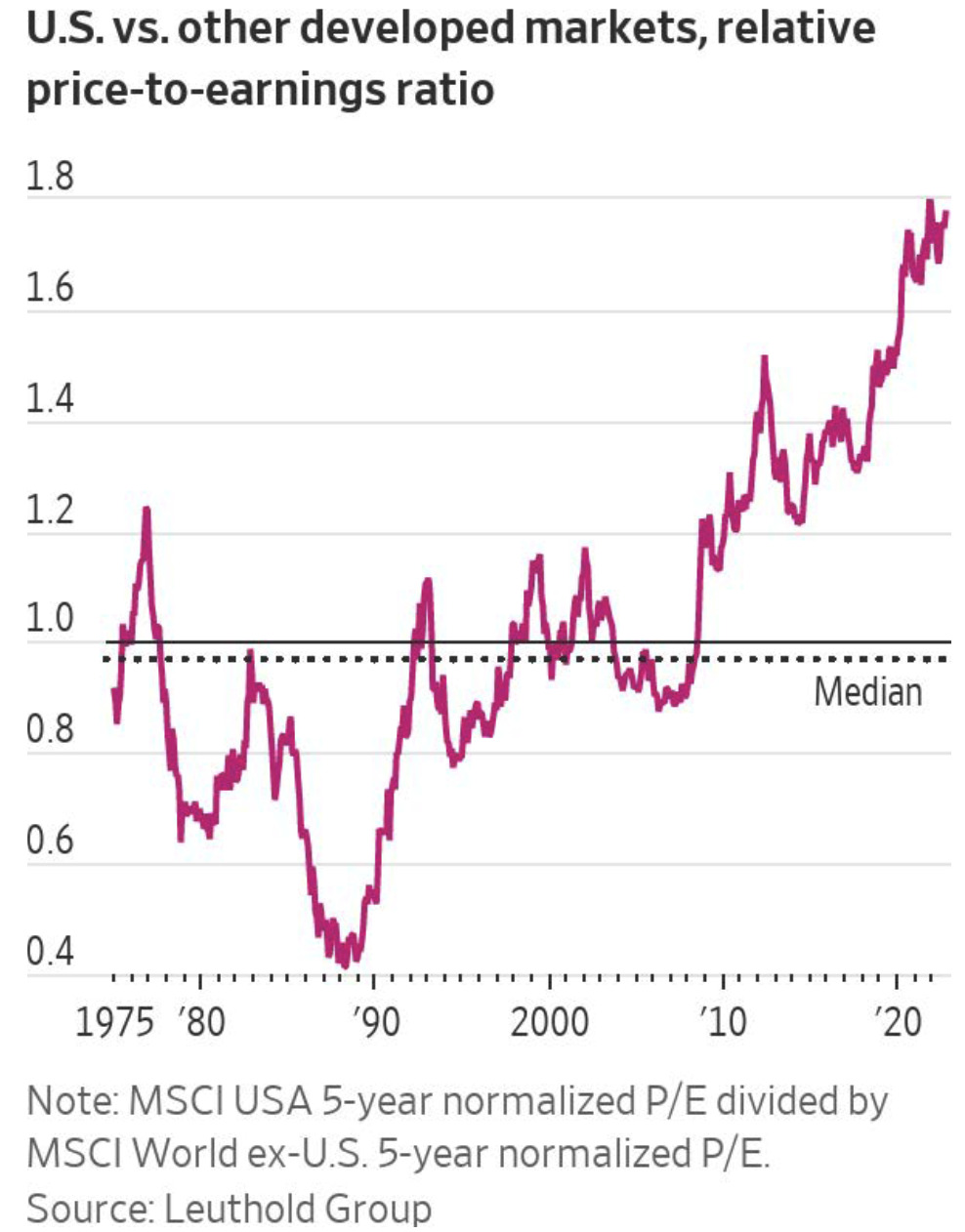 Always Sunny in China.
China dominates the solar power hardware market, with roughly 75% share or more in each of the main panel components (solar-grade silicon, wafers, cells, and panels). North American manufacturers have de minimis share in each of the main component markets.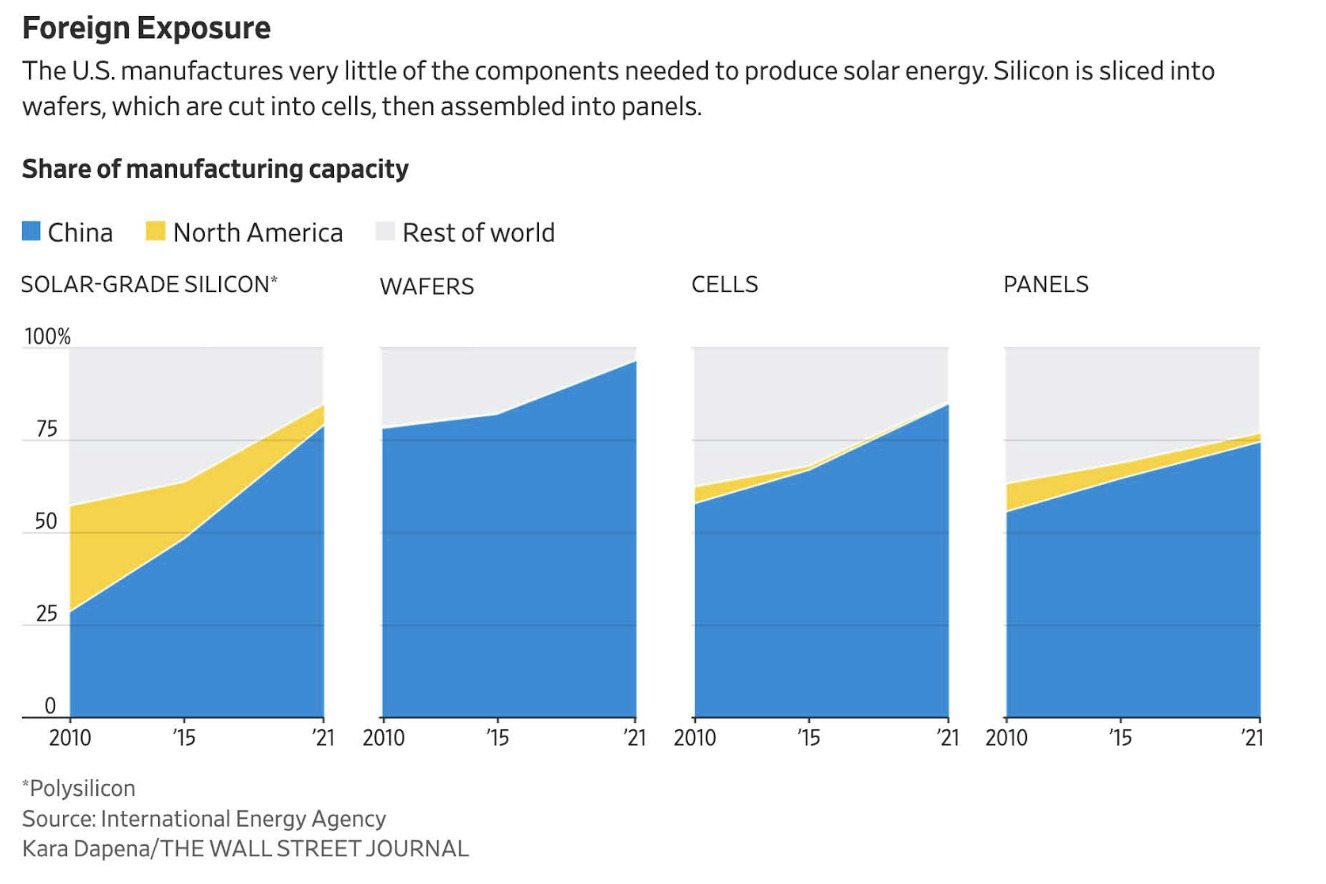 Big Tech Valuation Check.
The Big Tech-heavy Nasdaq-100 Index currently has an enterprise value-to-sales ratio of 3.71. That is down from 5.40 at the start of the year and around levels hit in 2019, though still above its 10-year average of 3.35.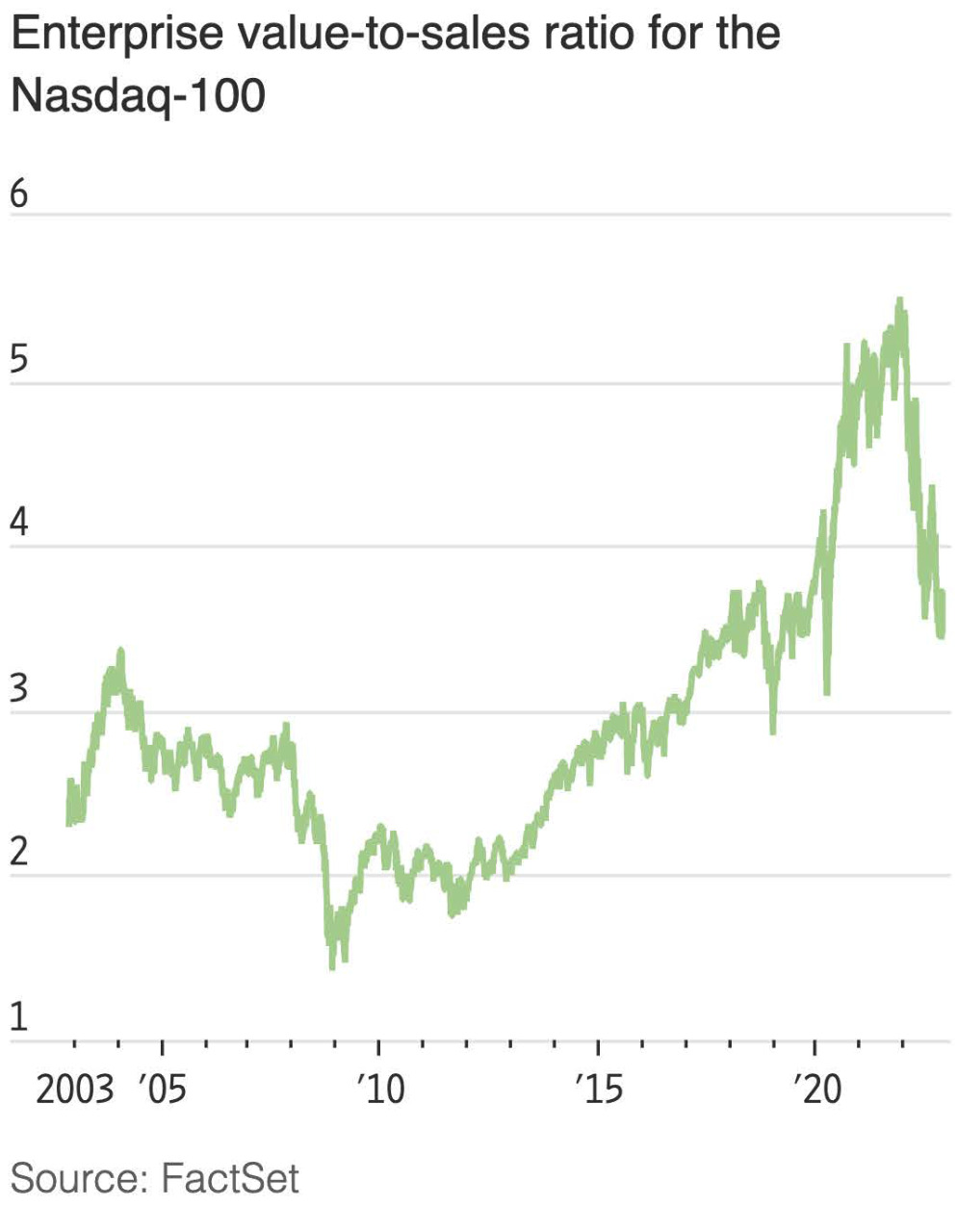 By The Numbers
$16.5 trillion

: total borrowing by U.S. households, up $351 billion in Q3 and up $2.4 trillion since the end of 2019, according to the New York Fed

$14 trillion

: value of equity mutual funds and ETFs domiciled in the U.S., roughly 78% of which is in U.S. stock funds, according to Morningstar Direct
$220-260 billion

: valuation of Bytedance (TikTok parent) in recent secondary sale transactions, down from a private valuation of $450 billion valuation last year, according to Unicorns Exchange

$124 billion

: value of Jeff Bezos' personal fortune. Bezos recently pledged to give the majority to charity during his lifetime

$56 billion

: value of Elon Musk's pay package currently at issue in a shareholder lawsuit

$34 billion

: amount spent online in the U.S. during the 5 days ended Cyber Monday, up 5% year over year as compared to 8% year-over-year inflation, according to Adobe Analytics

$24.6 billion

: value of supermarket giant Kroger's proposed acquisition of Albertsons

$10 billion

: estimated value of loans propping up Alameda's losses, more than half of FTX's assets

8 billion

: the world's population exceeded 8 billion on November 15, according to the United Nations

6 billion

: number of baguettes produced each year in France

$4 billion

: size of Warren Buffet's recent investment in Taiwan Semiconductor Manufacturing Corporation (TSMC), the world's largest semiconductor manufacturer
$392 million

: size of Google's settlement with 40 states over an investigation related to Google's alleged use of misleading and deceptive tactics regarding users' location data

$275 million

: size of Meta's recent fine by Ireland over a data leak, bringing total E.U. fines to over $900 million

$180 million

: amount grossed by "Black Panther: Wakanda Forever" at the domestic box office in its opening weekend, the second-best theatrical debut of the year

217 million

: number of hours U.S. viewers watched e-spots content this year, up from 147 million in 2018, according to Stream Hatchet

$121 million

: value of Bahamian property purchased by Sam Bankman-Fried, his parents, and other senior executives of FTX

$26.5 million

: asking price for Ivana Trump's Manhattan townhouse, which features gold and animal print decor

$6.8 million

: amount left in electronic vehicle company Canoo's cash reserves at the end of September, down from $415 million a year ago

6 million

: number of Ukrainians without power as of 11/26/22

1 million+

: estimated number of people and businesses that could be owed money following the collapse of crypto exchange giant FTX
$295,884

: median compensation of Alphabet in 2021, 67% higher than Microsoft and 153% higher than the 20 largest listed technology companies in the U.S.

$220,000

: cost of goods sold for Rivian's electronic vehicles, compared to an average selling price of $81,000

$196,000

: average U.S. homeowner's tappable equity at the end of the third quarter, down 9.6% from the second quarter but still up about 10% from the same time last year, according to Black Knight

85,000:

number of workers in the U.S. tech sector who have been laid off in mass job cuts so far in 2022 through late-November, according to Crunchbase

11,000

: number of job cuts recently announced by Meta. The cuts represent 13% of staff

10,000

: number of job cuts reportedly being made by Amazon. The cuts represent 3% of its corporate staff and less than 1% of its 1.5 million total employees

171

: activist campaigns launched year to date as of 9/30/22, up 39% from the same period in 2021
98%

of brands expect connected TV advertising to become larger than mobile advertising in the next 2 to 3 years, according to LionTree

71%

of companies expect remote work to be part of their standard operations moving forward, according to a recent Upwork survey

45%

of all U.S. freight is impacted by railroads

40-70%

of global commodity supply is consumed by China, according to Dealbook

15%

: year-over-year increase in U.S. credit card balances, the largest increase in over two decades

11.1%

: UK inflation rate in October on a year-over-year basis

7.7%

: average U.S. Home Equity Line of Credit (HELOC) rate, which compares to the 19.0% average credit card APR and 10.6% average personal loan rate, according to Bankrate.com