The Market Monitor
Tricks and Treats
With third quarter earnings season in the rearview for most companies reporting on a calendar year quarter, we are pausing to take a look at the last month. October was a spooky month in many respects, stocks rallied after logging their worst year-to-date performance in 20 years through the end of September. The S&P 500 ended the month up 8%, bringing its year-to-date decline to 19% through October 31st. Energy stocks rallied 25% in October while technology stocks lagged, with the NASDAQ Composite up 4% for the month. According to Bank of America, investors with classic "60/40" stock-bond portfolios are facing their worst returns this year in over a century.
The Federal Reserve continued to play the role of grim reaper in global financial markets, as expectations for additional supersized rate increases drove Treasury yields even higher. The 10-year Treasury yield was 4.10% on Halloween, up from 3.83% at the end of September and 1.52% at the end of December. Higher rates have contributed to a strengthening U.S. Dollar, which has negatively impacted financial results for companies with significant foreign currency exposures and made products priced in U.S. Dollars more expensive to foreign buyers. In our "FX and Opex" column, we take a closer look at how eight large-cap technology companies handled investor messaging around the impact of foreign exchange and their efforts to offset macro and other headwinds through cost reductions.
The ghost of COVID-19 continued to haunt technology companies, as evidenced by some pretty scary September quarter earnings reports from the likes of Snap, Meta, Amazon, and Alphabet. Consumers are spending more time in the real world and less time at home watching streaming services and buying products online. Companies like Amazon, which overestimated the durability of the surge in pandemic-era demand and invested accordingly, have seen profits decline as expense growth increasingly outpaces revenue growth. More broadly, the inflation brought on by COVID-19 is casting a pall over the entire market as an increasingly broad consensus for a monetary policy-driven 2023 recession has emerged.
In this environment, equity investors expect corporate management teams to clearly articulate how, and to what extent, their results have been impacted by macroeconomic factors. Investors also expect increased transparency into foreign exchange exposures and the actual and expected impact of the stronger dollar on revenues and profits. And with most investors expecting an imminent recession, they want to feel comfortable that their portfolio company management teams are clear-eyed about the potential risks a recession poses for their business and have taken prudent actions to insulate the business from an economic downturn. As debt grows increasingly expensive and more difficult to come by, investors also want to ensure that CFOs are prudently deploying their capital. De-leveraging, which was certainly not a priority during the recent era of historically low interest rates, is back in vogue.
We hope you enjoy reading this month's Monitor and
pass it along to others to
subscribe.
Happy reading!
Q3'22 Earnings: F/X & Opex Review
Foreign exchange and operating expenses were key themes on third-quarter earnings calls, especially for technology companies, many of which have significant international sales and have focused on revenue growth over profitability in recent years. Below we have included commentary on each topic from eight large technology companies which reported earnings in the month of October. Time will tell if ServiceNow CEO Bill McDermott's phrase "the great reprioritization" is adopted more widely. It certainly seems an apt characterization of the current environment from our vantage point.
Ex. revenue benefit from hedging, there was a 6 pt headwind y/y (5 pt w/ hedge benefit) vs. a slight tailwind in Q3-21.

Looking to Q4, expect an even larger headwind from FX. In addition, the impact of FX is greater on operating income than it is on revenues, given that expense base is weighted more toward the U.S. with most of R&D efforts located here.
"We are reviewing projects at all scales pretty granularly to make sure we have the right plans there, and based on that, the right resourcing and making course corrections. And this will be an ongoing thing. It is something we'll continue doing going into '23 as well."
For Q3, worldwide net sales were $127.1B, an increase of 19% y/y, excluding approximately 460 bp of unfavorable impact from changes in FX rates.

FX impact was higher than the 390 bp impact we had incorporated into Q3 guidance.
Look ahead to guidance for Q4, the biggest individual factor is still going to be FX. Guidance includes 460 bp of unfavorable impact y/y. FX is a bigger issue on revenue growth in dollars than it is on income. It actually has a slight favorability due to the investments we're making internationally.
"As the third quarter progressed, we saw moderating sales growth across many of our businesses as well as the increased foreign currency headwinds, I mentioned earlier, and we expect these impacts to persist throughout the fourth quarter. As we've done at similar times in our history, we're also taking actions to tighten our belt, including pausing hiring in certain businesses and winding down products and services where we believe our resources are better spent elsewhere. We aim to strike the right balance between investing for our customers for the long term, while driving operational efficiency improvements and accomplishing more with less."
Reached a September quarter revenue record of $90.1B, up 8% y/y despite over 600 basis points of negative foreign exchange impact, with new September quarter records in the Americas, Europe, Greater China and rest of Asia Pacific.

In constant currency, grew nicely in each geographic segment, with strong double-digit growth outside the US.

Expects nearly 10 percentage points of negative y/y revenue impact from FX in December quarter.
"The world continues to be unpredictable as old challenges evolve and new ones emerge. What remains constant is the ability of our teams to create great products, services and experiences while being a force for good in the world. Whatever challenges lie ahead in the new year, we're moving forward, as we always have, investing for the long-term to deliver incredible innovations for our customers like only Apple can."
Q3 total revenue was $27.7B, down 4% or up 2% on a constant currency basis. Had FX rates remained constant with Q3 of last year, total revenue would have been approximately $1.8B higher.

Expects Q4 total revenue to be in the range of $30B to $32.5B. Guidance assumes FX will be an approximately 7% headwind to y/y total revenue growth.
"We are making significant changes across the board to operate more efficiently. We are holding some teams flat in terms of headcount, shrinking others and investing headcount growth only in our highest priorities. As a result, we expect headcount at the end of 2023 will be approximately in line with third quarter 2022 levels. We have increased scrutiny on all areas of operating expenses. However, these moves follow a substantial investment cycle, so they will take time to play out in terms of our overall expense trajectory."
Fiscal Q1 revenue was $50.1B, up 11% and 16% in constant currency. Earnings per share was $2.35, up 4% and 11% in constant currency when adjusted for the net tax benefit for the first quarter of fiscal year 2022.

Operating income increased 6% and 15% in constant currency.

Now expects a roughly 5 pt headwind to full year revenue growth. And FX should decrease COGS and operating expense growth by approximately 3 pt.
"And while we continue to help our customers do more with less, we will do the same internally. And you should expect to see our operating expense growth moderate materially through the year while we focus on growing the productivity of the significant headcount investments we've made over the last year."
6% y/y revenue growth in Q3 was driven by a 5% increase in average paid memberships and a 1% rise in ARM. Excluding the impact of FX, revenue and ARM grew 13% and 8%y/y, respectively.

The appreciation of the US dollar remains a significant headwind for us (and US-based multinationals in

general).

For Q4'22, expects revenue of $7.8B with the sequential decline entirely due to the continued strengthening of the US dollar. On a constant currency basis, this

equates to 9% y/y revenue growth.
Based on YTD actuals and Q4 guidance, estimates that USD appreciation since 1/1/22 will negatively impact full year 2022 revenue and

operating income by ~$1 billion and $0.8 billion, respectively.
"Over the medium term, we believe we can adjust our pricing and cost structure for a stronger US dollar

world. Our long term goal remains unchanged - to sustain double digit revenue growth, increase operating profit even faster (as we expand margins) and deliver growing positive free cash flow."
Q3 global revenue of $685M grew 10% y/y on a constant currency basis or 8% on a reported basis.

Expects Q4 revenue to grow in the mid-single digits percentage range y/y. Includes approximately 3 pt of headwind from FX, slightly greater when compared to the third quarter.
"Before I hand over to Todd, I want to share my thoughts on how we operate the business. 2022 was a year of elevated investment for Pinterest as we leaned into a number of initiatives that we believe will drive durable, long-term growth. Additionally, the team and I have gone through an extensive review of our portfolio of initiatives to be sure we're focused on the highest-yielding activities. The benefits of that additional investment and heightened focus are coming through in product impact, particularly in engagement and revenue. We're also focused on driving efficiencies in the business. As we discussed on the last call, we intend to return to meaningful margin expansion next year and have already started those efforts."
Q3 subscription revenues were $1.742B, up 28.5% y/y in constant currency, exceeding the high end of guidance range by 100 bp. RPO ended the quarter at approximately $11.4B, representing 24.5% y/y constant currency growth. Current RPO was approximately $5.87B, representing 25% y/y constant currency growth, a 150 bp beat versus FX-adjusted guidance.

Revising Q4 subscription revenues range to between $6.865B and $6.870B, representing a raise to y/y constant currency growth outlook to 28.5% excluding a 550 bp FX headwind.
"I hear one thing from CEOs consistently. Anything we prioritize must generate results in weeks or months. This is the essence of the great reprioritization."

"We continue to expect an operating margin of 25%, consistent with our original guidance at the beginning of the year as we are offsetting incremental FX headwinds with operational efficiencies and disciplined spend management."
Lighter Notes
"Everyone I know is on it." Diabetes drug Ozempic has become

widely popular

among elites. From Hollywood stars to Elon Musk, people are using the insulin-boosting, appetite-suppressing drug to lose weight, leading Patti Stanger, star and executive producer of the reality show 'The Millionaire Matchmaker,' to comment that everyone she knows is on the drug. "It's definitely a dinner conversation in the Hamptons," added New York City writer Cat Marnell.

Cataclysmic Variables. Unlike the lonely sun, about half the stars in our Milky Way galaxy are in a long-term committed relationship with another star, orbiting each another in a celestial marriage called a

binary system

. Researchers recently described in the journal Nature one of these marriages gone wrong - a twosome that borders on the extreme, with the pair whirling around each other every 51 minutes in the fastest such orbital period known for a rare class of binary stars. As part of the drama, one star is eating its companion. "Basically, they were bound together for 8 billion years in a binary orbit. And now, right before the second one could end its stellar life cycle and become a white dwarf in the way that stars normally do - by evolving into a type of star called a red giant - the leftover white dwarf remnant of the first star interrupted the end of the companion's lifecycle and started slowly consuming it," said MIT astrophysicist Kevin Burdge, lead author of the study.
Chimeric brains.

Neuroscientists at Stanford University transplanted tiny blobs of neural tissue known as organoids into the

brains of newborn rats

. The human cells grew and made functional connections within the rat brain, generating hybrid neural circuits, the researchers said in a study published in the journal Nature. The study has raised ethical concerns about animal welfare and how to classify animals with "chimeric brains," or brains that have both human and animal cells.

Suicide bombers in space. Last month,

6.8 million miles from Earth

, NASA's DART spacecraft accomplished its suicide bombing mission by slamming into an egg-shaped asteroid named Dimorphos at 14,000 miles per hour and changing its orbit. "This is a watershed moment for planetary defense and a watershed moment for humanity," NASA chief Bill Nelson told reporters in announcing the results. "It felt like a movie plot, but this was not Hollywood.
Image of the Month
Astronomers worldwide are captivated by an unusually bright and long-lasting pulse of high-energy radiation that swept over Earth Sunday, Oct. 9. The emission came from a gamma-ray burst (GRB) – the most powerful class of explosions in the universe – that ranks among the most luminous events known.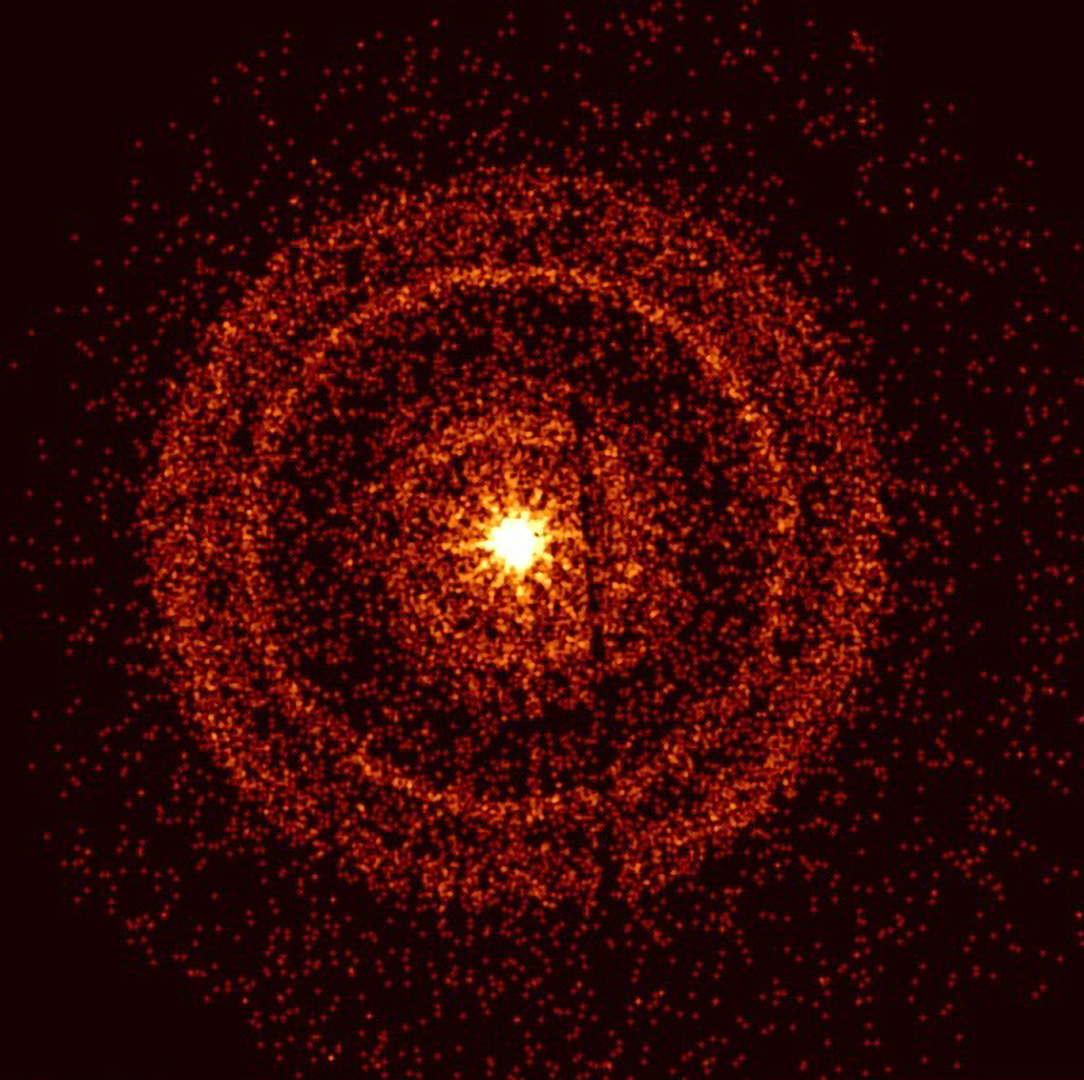 Image Credit:

NASA/Swift/A. Beardmore (University of Leicester)
Chart Series
Ay, Papi!
The Mortgage Bankers' Association's (MBA) Purchase Applications Payments Index (PAPI), a measure of housing affordability, has spiked this year along with mortgage rates (higher = less affordable). According to the MBA, the national median mortgage payment was $1,941 in September, up by $558 in the first nine months of the year, a 40.4% increase.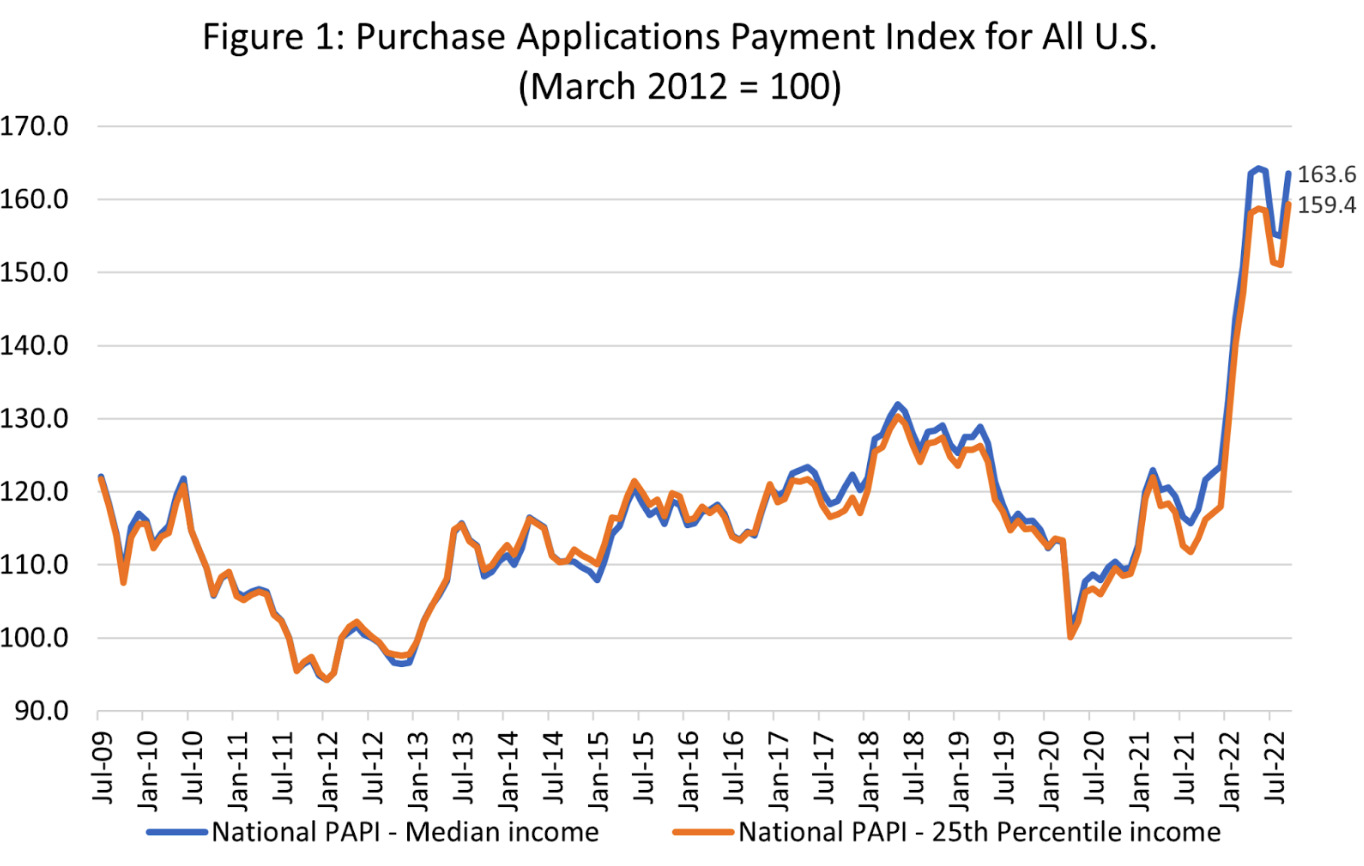 Running Hot.
EU inflation was 10.7% in October, outpacing the 8.2% year over year increase in the September Consumer Price Index. Like all inflation-related charts these days, this one is a "hockey stick." Let's hope it doesn't stay that way for long!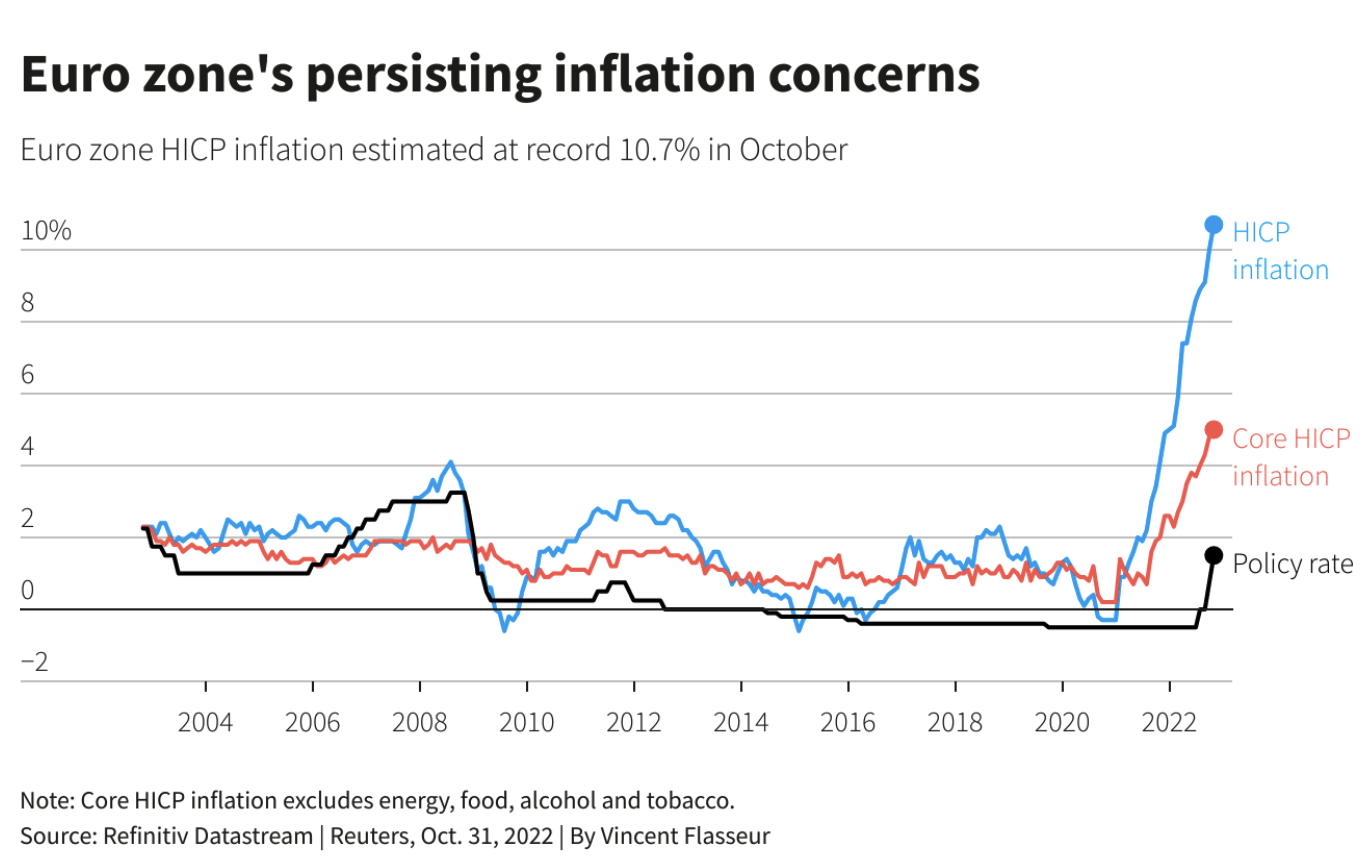 Cooling Down.
After peaking in Q4 of 2021 at $186 billion, venture dollar volume has declined in each consecutive quarter since, and amounted to $81 billion in Q3 of 2022 (a 56% decrease compared to Q4-21). Angel and seed stage volumes declined the least (-29%), while technology growth stage investments declined the most (-66%) over the period.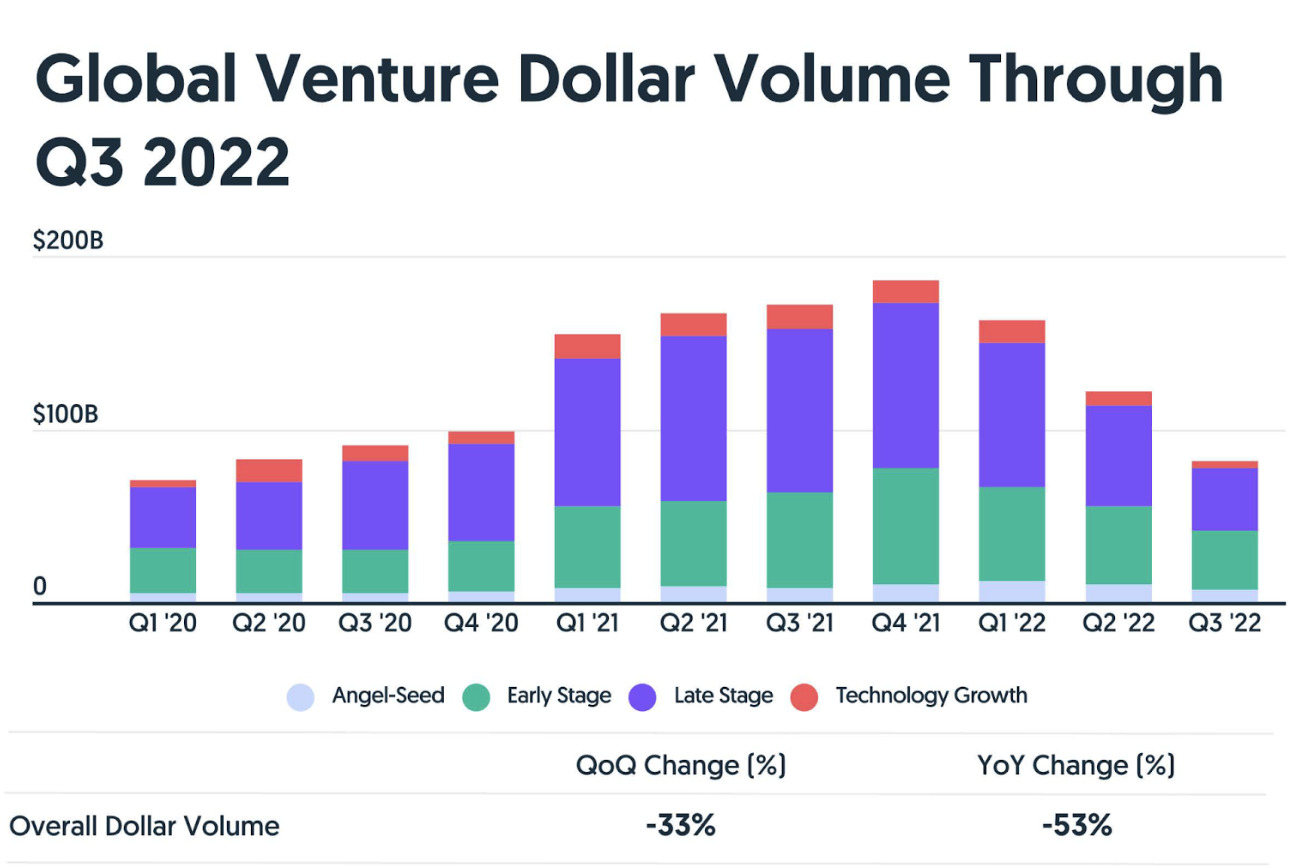 Bearish.
According to the American Association of Individual Investors, the share of individual investors who believed stocks would be lower in six months' time rose in October to 56%, hovering above its long-term average for the 46th time in 47 weeks.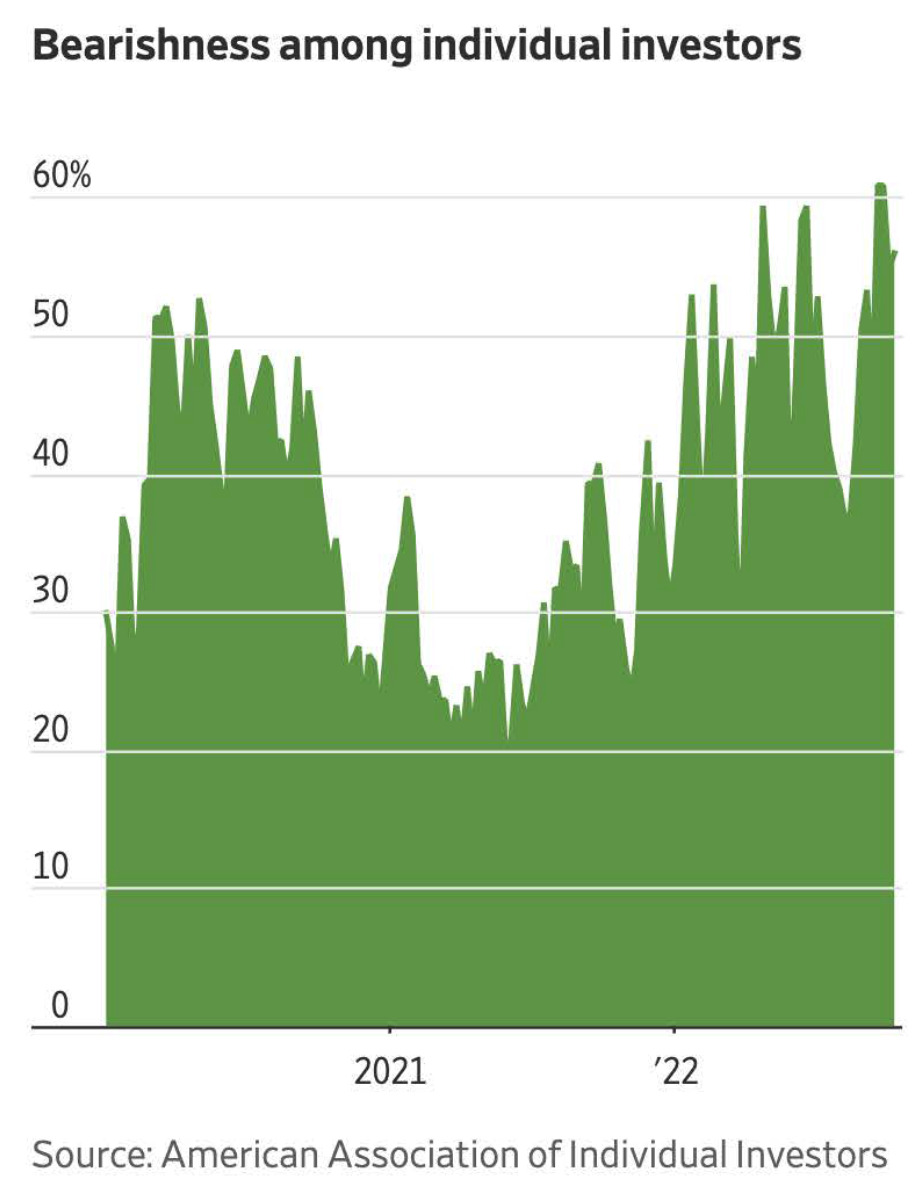 By The Numbers
$1.2 trillion

: amount top global automakers plan to spend through 2030 to develop and produce millions of electric vehicles, along with the batteries and raw materials to support that production, according to Reuters. The amount doubled compared to the company's estimate a year ago
$360 billion

: United Nations estimate of the reduction in developing nations' future income caused by the Federal Reserve's interest rate policy

$151 billion

: According to Pitchbook, U.S.-based venture capital funds raised $151 billion in the first three quarters of this year, exceeding any prior full-year fundraising

$47 billion

: amount of global COVID-19 vaccine revenue expected in 2023, down from $60 billion in 2021 and 2022 according to London-based data analytics firm Airfinity

$27 billion

: size of management buyout of Continental Resources by founder Harold Hamm

$13 billion

: amount of Twitter loans held by banks which abandoned plans to syndicate the debt which funded Elon Musk's acquisition of the company

$13 billion

: latest valuation of Instacart, down from $15 billion in July and $24 billion in March

$6 billion

: amount Tiger Global is seeking for a new private equity fund, less than half the amount raised for a prior fund

2.345 billion

: number of minutes spent streaming the Netflix original "Dahmer" during the week of October 3rd, according to Nielsen
$965 million

: amount radio personality Alex Jones was ordered to pay to the families of Sandy Hook victims

$794 million

: amount the state of Louisiana is removing from BlackRock funds for the asset firm's push to embrace ESG strategies

750 million

: number of new applications expected to be built by 2025, according to ServiceNow CEO Bill McDermott

$495 million

: amount Credit Suisse agreed to pay to settle a case brought by the New Jersey attorney general related to residential mortgage-backed securities sold prior to 2008

$200 million

: amount the state of South Carolina plans to divest from BlackRock funds by year end due to the firm's ESG investing philosophy

54 million

: number of electric vehicles expected to be sold in 2030, more than 50% of total production that year, according to a Reuters analysis

$1.26 million

: amount Kim Kardashian is paying in her settlement with the SEC for failing to disclose her compensation received for promoting EMAX crypto tokens
200,000

: number of monthly active users of Meta's Horizon Worlds metaverse, well below an internal goal of 500,000 and on a downward trajectory

2,600

: number of officials at federal agencies who disclosed stock investments in companies while those same companies were lobbying their agencies for favorable policies, according to the WSJ. That amounts to more than one in five senior federal employees across 50 federal agencies reviewed by the paper

100+ years

: according to Bank of America, investors with classic "60/40" stock-bond portfolios are facing their worst returns this year in over a century

25 years

: mortgage demand reached its lowest level in 25 years during the week of October 21st, according to the Mortgage Bankers' Association

20 years

: amount of jail time faced by 40-year-old electronic vehicle company Nikola founder Trevor Milton after being convicted on federal wire fraud and securities fraud charges
73%

: expected increase in mortgage payments for U.K. homeowners who took advantage of popular two-year, fixed-rate mortgages last year, according to Pantheon Macroeconomics

65%

of U.S. households include a pet. Over half of America's cats and dogs sleep in their owner's beds

50%

of Twitter employees were laid off following Elon Musk's acquisition of the company

28%

: estimated year-over-year increase in home heating costs between October and March for households that primarily use natural gas, according to the EIA

28%

: decline in Snap's share price on October 21st following its earnings report

26%

of teens who own a virtual reality device, with only 5% using it daily, according to a Piper Sandler survey. 48% of those surveyed said they were either unsure about or "uninterested" in the Metaverse

16%

: year over year increase in PepsiCo sales due to a 17% increase in food and drink prices

10%

: reduction in the annual capital budget of Taiwan Semiconductor, the world's largest semiconductor manufacturer

8.7%

: increase in social security checks in 2023, the largest cost of living adjustment in 40 years

8.2%

: year over year increase in the Consumer Price Index in September, with core inflation up 6.6%

6.4%

: one-day decline in the Hang Seng index on Monday, 10/24, the first trading day following the Chinese Communist Party's national congress meeting, the index's worst one-day decline since the financial crisis. The index closed the day at its lowest level since April 29, 2009

2.6%

: U.S. Q3 GDP growth, although final sales to domestic purchasers, which excludes trade, inventories, and government spending, only increased at a 0.1% rate

1.0%

: World Trade Organization (WTO) economists now expect 1% global merchandise trade volume growth in 2023, down from their prior 2023 growth estimate of 3.4% and their current 2022 growth estimate of 3.5%